Key facts about Hamas founder Yassin
(Agencies)
Updated: 2004-03-22 16:51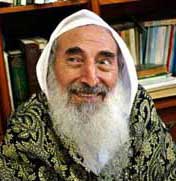 Key facts about Hamas founder and spiritual leader Sheik Ahmed Yassin, who was killed in an Israeli helicopter missile strike.
_ Yassin born in what is today the coastal Israeli city of Ashkelon. His Palestinian passport listed his date of birth as Jan. 1, 1929, but Yassin claimed he was born in 1938.
_ 1948: Yassin family uprooted in creation of the state of Israel. Yassin grows up in Gaza refugee camps. At age 12 is paralyzed in sporting accident. He later raises 11 children in three-room apartment in Gaza City slum.
_ 1987: Yassin founds Hamas from ranks of Muslim Brotherhood religious organization. Hamas soon emerges as strongest political rival to mainstream Fatah movement of Palestinian leader Yasser Arafat. Hamas opposes peace talks with Israel. Carries out scores of suicide bombings, killing hundreds of Israelis, to thwart peace agreements negotiated by Arafat and his supporters.
_ 1989: Yassin arrested in mass roundup of nearly 200 Hamas members. Sentenced to life in prison for ordering attacks on Israeli soldiers and on Palestinians suspected of collaborating with Israel. The quadriplegic Yassin suffers from various illnesses in jail, including chronic bronchitis and eye and ear infections.
_ 1997: Israel frees Yassin in exchange for two agents from Israel's Mossad spy agency held by Jordan after botched attempt on life of another Hamas leader there.
_ 2000: With breakdown of peace talks and outbreak of new Israeli-Palestinian fighting, Hamas and other militant groups step up campaign of suicide bombings, killing more than 450 people during fighting that has lasted more than three years.
_ 2003: In response to suicide bombings, Israel intensifies targeted killings of militants and declares top Hamas leaders "marked for death."
_ Sept. 6, 2003: Yassin escapes Israeli missile strike on Gaza building with a small wound on his hand.
_ March 22, 2004: Helicopter launches three missiles, instantly killing Yassin as he leaves a mosque after morning prayers.
Today's Top News
Top World News

Hamas declares jihad on Israel after Yassin was killed




Beijing watches Taiwan developments closely




State tightens farmland protection




Doctor starts 49-day fast to test TCM regimen




Fighting follows Afghan minister's killing




China values military ties with neighbors