Chinese chess queen vexed in name game
(bjtoday)
Updated: 2004-03-22 09:17
Chinese chess master Zhu Chen is upset about an American company plans to capitalize on her name.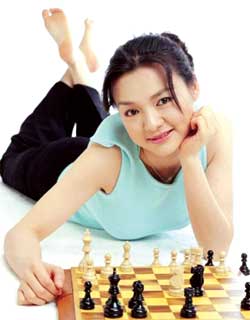 Zhu Chen [baidu]

¡°I was so surprised to hear that my name would become a brand. No one asked my permission for that,¡± the 2002 Wome¡¯s World Chess Champion told Beijing Youth Daily on Sunday.

Zhu learned from a friend a few days before that the East Coast Chamber of Commerce, a company based in Wilmington, Delaware that mostly manufactures sports equipment, was trying to register her name as a trademark and had appointed the Beijing Trademark and Patent Agency (BTA) as their agent in China.

BTA representative Cai Jun said the American company wanted to register the name Zhu Chen in both Chinese characters and pinyin for a line of new sports products targeted at the domestic market. He added that his agency had filed a trademark application with the brand department of the China National Industry and Commerce Administration Bureau in November last year and the application was accepted on December 17.

According to an official surnamed Lu from that department, after applications are accepted and filing companies are investigated, potential trademarks and brands are listed on the Chinese Trademark and Brand Announcement. If no objections are filed to a listed trademark within three months of its posting, the registration will go through.

Lu noted that companies do not have to receive permission to register their individuals¡¯ names as brands because thereare no such clauses in national law.

Cai told Beijing Youth Daily that the announcement had yet to be published. ¡°If Zhu Chen does not file any objections within three months, the brand with her name will belong to the Americn company,¡± he said. If an objection is raised, officials from the brand office will judge whether the potential trademark constitutes a violation of Zhu¡¯s personal rights.

A lawyer surnamed Wei from the Zhejiang Jinhui Trademark and Patent Agency estimated that Zhu¡¯s name could be worth millions of yuan, according to a report in Zhejiang Province-basedWenzhou City Daily on Sunday.

¡°I am meeting with a lawyer regarding the case and will stand up to protectthe rights to my name,¡± Zhu toldBeijing Youth Daily.
Today's Top News
Top Life News

Office: Beijing watches Taiwan developments closely




State tightens farmland protection




Doctor starts 49-day fast to test TCM regimen




Fighting follows Afghan minister's killing




China values military ties with neighbors




Dad asks: 'Who's my kid's papa?'