Doctor starts 49-day fast to test TCM regimen
(China Daily)
Updated: 2004-03-22 07:57
A 50-year-old Chinese herbalist doctor began his planned 49-day fast on Saturday in the City of Ya'an, Southwest China's Sichuan Province, hoping to beat the 44-day record set last year by US magician David Blaine.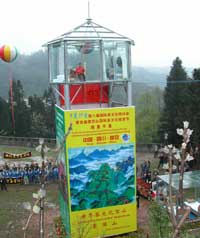 Chen Jianmin is expected to stay in this glass room for 49 days without food. [newsphoto]

Under the supervision of a notary public and social supervisors, Chen Jianmin went into a glass room in Bifengxia Valley, a mountain resort in Ya'an.

Chen will live alone in the 15-square-meter room built halfway up the mountain for the coming 49 days where he will not be able to leave the room or obtain food -- only drinking water.

Chen's entire fast will be closely monitored by supervisors from Ya'an Notary Office while a special medical team sent by Ya'an People's Hospital and Huaxi Medical University will watch Chen's fast at the scene.

Chen, a native of Luzhou in Sichuan, said his fast would "attest to the regimen of traditional Chinese medical science."

The record attempt will be monitored by seven notaries public.

Chen claims to have undergone long-term fasting on three previous occasions in 1987, 1994 and 1999. He says the longest lasted 81 days, during which he ate no food but only drank water, while going to work regularly.

Experts of Western medicine questioned whether Chen could have fasted for such a long time. A physiologist at Sichuan University, who declined to be named, said modern medical research shows the average person can survive only seven days without food or water, and he dismissed Chen's claim of an 81-day fast from food as definitely impossible.

Chen said he would break the record through his method of "pigu shengong" or "the magic of fasting," which is documented in ancient Chinese medicine documents or Taoist scriptures.

Medical experts say the challenge Chen has to overcome is not only the hunger, but his separation from society as he can talk to no one or watch TV in the glass room.

Before his adventure, Chen got a thorough physical and psychological examination by medical experts.
Today's Top News
Top China News

Office: Beijing watches Taiwan developments closely




State tightens farmland protection




Doctor starts 49-day fast to test TCM regimen




Fighting follows Afghan minister's killing




China values military ties with neighbors




Dad asks: 'Who's my kid's papa?'