Pakistan: 100 fighters captured in battle
(Xinhua)
Updated: 2004-03-21 11:32
The Pakistan military said Saturday that 100 miscreants, including foreign militants, have been arrested in four days' operation against Taliban and al-Qaeda suspects and those harboring them in a tribal area bordering Afghanistan.
The arrested men included Uzbeks, Arabs, Chechans and locals, Corps Commander Peshawar Lt. General Safdar Hussain told foreign and local journalists at Wana, the headquarters of South Waziristan, some 300 kilometers southwest of Islamabad.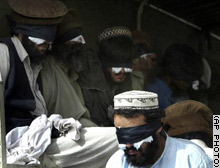 Pakistani soldiers guard prisoners in a truck near Wana, Pakistan, on Saturday.

The military intercepted a wireless message by the Uzbek and Chechan languages, in which a message about the injury of a colleague was being passed, said the general, adding the injured suspect could likely be Uzbek Nek Muhammad or Chechan commander Daud.

He did not rule out the presence of Ayman al-Zawahiri in the area. He said Russian-made arms have been recovered from those arrested in operation. Explosives and other equipment being used for suicide bomb attacks have also been recovered, Hussain said.

He said that the operation has been expanded to 60 square kilometers from 50 square kilometers, adding that some 400 "miscreants and foreign militants" are still fighting with Pakistani troops.

The operation, which took place about 15 kilometers west of Wana, headquarters of the tribal agency bordering Afghanistan, started on Thursday morning, now entering its third day.

Pakistani forces, assisted by Cobra gunship helicopters, on Saturday resumed heavy artillery bombardment of the area and then launched a fresh offensive.

The ongoing operation will hopefully come to an end within the next 48 hours, said Pakistani Interior Minister Faisal Saleh Hayaton Saturday.

It is thought a senior al-Qaeda figure could be among those cornered. On Thursday evening, Pakistani President Pervez Musharraf said in an interview with CNN that a "high-value target"had "very likely" been surrounded in South Waziristan, and that the fierce resistance led him to believe it was a senior al-Qaeda leader. "Who, I don't know," he said.

The latest operation, launched by Pakistani troops, is the biggest one since the hunt for Bin Laden and his associates started in the area after the Afghan war in 2001.

Pakistani troops Tuesday launched a similar operation in the same area leaving 39 people dead: 15 government troops and 24 local tribal militants and some foreigners.
Today's Top News
Top World News

Global protests rally against Iraq war, occupation




Taiwan "referendum" vetoed by the people




China to cultivate more excellent scientists




China puzzled over US tax complaint at WTO




State banks head toward Sept IPO




Marriage bells toll in cyber churches