Iraq pull-out all but inevitable-Zapatero
(Agencies)
Updated: 2004-03-21 10:37
Spain's withdrawal from Iraq is all but inevitable, Prime Minister-elect Jose Luis Rodriguez Zapatero said in an interview on Sunday, one day after Spanish protesters sent him a stark message to bring troops home.
Zapatero, whose Socialists ousted the center-right government in a shock election victory a week ago, has vowed to stand by his pre-election pledge to withdraw 1,300 troops from Iraq, unless the United Nations takes control by mid-year.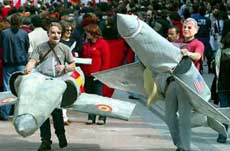 Two Spanish protesters dressed up as U.S. President George Bush and Former Spanish Prime Minister Jose Maria Aznar attend a rally commemorating the first anniversary of the U.S.-led war in Iraq in Oviedo in Northern Spain March 20, 2004. [Reuters]

His election came three days after the March 11 suspected al Qaeda-linked bombings, which revived anti-war sentiment.

"A lot would have to change (in Iraq). The return of Spanish troops is a decision that will be difficult to avoid," Zapatero told El Pais newspaper.

Zapatero said he believed the U.N. could take charge of Iraq by the June 30 deadline for a planned U.S. handover of sovereignty to Iraqis.

"The only viable form of occupation would be for the U.N. to take political control, for more multinational forces including many Arab countries led by the Arab League to be involved," he said.

Demonstrations on Saturday across Spain demanding the return of Spanish troops were a reminder to Zapatero that voters' expectations are high. He now faces a difficult juggling act over Iraq as pressure mounts on him at home and abroad.

His promise to withdraw troops has drawn criticism from U.S. President Bush and other political leaders who have urged Madrid to stay the course and suggested withdrawal would hand victory to the guerrillas.

Support for his anti-war stance snowballed in the wake of the train bombings that killed 202, seen by many as revenge by radical Islamists for Spain's support of the U.S.-led war.

VOTERS EXPECTATIONS

But if the U.N. does take control in Iraq and Spanish troops remain, Zapatero could have some angry voters on his hands.

"We want our troops back, with or without the U.N.," said 25-year-old student Fernando Diaz at Saturday's march.

"If he doesn't fulfil the expectations of the young people, of the workers, they may take to the streets again," he added.

Votes for Zapatero's Socialists were swelled by many young people who may not have voted had it not been for the attacks.

The bombings, three days before the March 14 election, galvanized anti-war feelings and revived anger over incumbent Prime Minister Jose Maria Aznar's support for the conflict.

"We want the troops to return without any conditions," said Marina Castello, 41, who works in a publishers.

"Bringing in the U.N. would only legitimize imperialism," said Castello, holding a banner at Saturday's march that read "With or without the U.N., bring our troops home now!"

On Sunday -- International Day for the Elimination of Racial Discrimination -- Muslims in Madrid will stage their own protest over the Madrid bombings, which wounded more than 1,800.

Six Moroccans are among 10 suspects detained in connection with the blasts and many Moroccans fear a backlash.

ABC newspaper on Sunday said police would soon issue arrest warrants for four more Moroccans believed central to the attack.

The strike has been claimed by a militant Islamic group aligning itself to Osama bin Laden's al Qaeda and police are probing possible links between suspects and radical Islamists.

The bombings are believed to be the first Islamist strike in the West since the September 11, 2001, U.S. attacks.
Today's Top News
Top World News

Global protests rally against Iraq war, occupation




Taiwan "referendum" vetoed by the people




China to cultivate more excellent scientists




China puzzled over US tax complaint at WTO




State banks head toward Sept IPO




Marriage bells toll in cyber churches