Dazzling art works catch collectors' eyes
(China Daily)
Updated: 2004-03-20 11:07
NEW YORK: A public viewing and auction of ancient Chinese art treasures will be held at the Algonquin Hotel in New York City from March 25 to 29.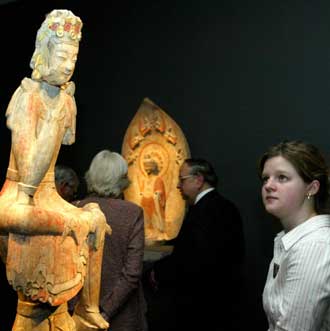 A visitor takes a close look at a stone sculpture figure on display in a Washington DC museum on March 18. The sculpture is one of the 35 statues on show in the Smithsonian Institution's Arthur M. Sackler Gallery. [Xinhua]
Entitled "Exquisite Ceramics, Paintings and Works of Art," the show and sale, organized by Hong Kong Auctions International (NY) Inc, features over 300 rare and remarkable porcelains and ceramics along with paintings, calligraphy and other works of art.
According to the organizers, prestigious art collectors and connoisseurs from around the world have supplied the lots up for auction.
"This upcoming spring auction will display to the public a wide array of unusual art works of ancient China. Many of them are items seldom seen in today's global Chinese antiquities markets, each of them having been selected only after careful consideration," said Kwong Lum, the auction house's chief consultant.
Of the 300-odd lots to be auctioned, the most distinguished is a blue and white meiping (plum blossom vase) of the Yuan Dynasty (1271-1368). The vase, made in Jingdezheng, in East China's Jiangxi Province, is featured on the cover of the auction's second catalogue, entitled "Outstanding Imperial Collections."
The large vase, 43.2 centimetres (17 inches) in height and decorated with traditional auspicious motifs such as intertwining peonies, is a masterpiece of Yuan Dynasty blue and white porcelain.
It boasts both powerful design and craftsmanship. A similar vase is currently in the collection of the Shanghai Museum.
Equally precious is a famille-rose enamel floral-dragon pouch-vase of the Qianlong reign period (1736-95) of the Qing Dynasty (1644-1911).
The vase, with a reddish-purple relief-belt around its neck, bears brilliantly coloured decorations on a beautifully glazed yellow ground.
Its ingenious design and superior workmanship mark the highest artistic attainment in Qing Dynasty famille-rose enamel porcelain ware.
At the Sotheby's 2002 autumn auction in Hong Kong, an enameled Qing Dynasty Qianlong Beijing-glass pouch-shaped jar, of identical design but with a phoenix-motif, sold for HK$24,244,750 (US$3,112,153).
Exceptional items
In addition, a Jiajing reign period (1522-66) of the Ming Dynasty (1368-1644) imperial five-colour wucai jar, a Qianlong famille-rose enamel hexagonal covered jar with animal-head ring-ears, a Southern Song Dynasty (1127-1279) Guanyao pipa-vase with lugs, a Southern Song Junyao reddish-purple glazed planter, and two other Yuan Dynasty meiping vases are all rare finds among extant ancient Chinese porcelain and ceramic wares, and they were highly prized even back in their own times.
Of the 60 snuff bottles and other works of art illustrated in Catalogue I are a number of exceptional items, including a Qianlong enameled revolving snuff bottle with Western motifs, an imposing Qing Dynasty crystal standing Guanyin figurine, two Song Dynasty (960-1279) yellow-jade covered containers with bas-relief dragons, a Qing Dynasty white jade zun-vase with cover and nine dragons in bas-relief, and a 69-centimetre (27-inch) tall bronze sitting Guanyin of the Yongle reign period (1403-24) of the Ming Dynasty.
The second section of Catalogue I features photographs of dozens of outstanding works by celebrated modern and ancient Chinese painters and calligraphers including Zhang Daqian (1901-84), Li Keran (1907-89) and Pan Tianshou (1897-1971).
"Chinese art collectors all over the world are keenly aware that the paintings and calligraphy by such artists are considered priceless nowadays," said Lum.
Art-collecting fever
For centuries, collecting ancient art works has been a national passion among the Chinese elite and nouveau riche. Going back to ancient times, collecting art has been the mark of intellectual and cultural attainment, and an indicator of social status.
During the Ming Dynasty, a collector named Xiang Yuanbian (1525-90), and his family, became renowned for the unparalleled scale of their collection, which consisted of important paintings and calligraphy of successive dynasties.
Generations later, Qing Dynasty Emperor Qianlong could not help but feel terribly jealous of the Xiang family collection, because more than two thirds of his own royal art collection bore seals of Xiang Yuanbian and his descendants. Consequently, the emperor had the Xiang family collection confiscated, partly to get over this mental dilemma.
In recent years, with the epoch-making developments in modern China's economy and the nation's rapid accumulation of wealth, the centuries-old art-collecting tradition has been unprecedentedly enhanced among Chinese literary, art and business circles.
As noted in the Wall Street Journal on January 14, 2004, buyers from the Chinese mainland have started playing a significant role in present-day global Chinese antiquities markets, placing high bids, determined to bring home more and more of the national art treasures lost to the West over past centuries.
At the same time, leading Chinese art museums and organizations have shown a tremendous interest in collecting quality art works from abroad. With the goal of bringing home precious imperial art treasures, groups of experts have been sent overseas from different areas of the country.
According to Lum: "To meet the ever-increasing demand of museums and private collectors for the finest in ancient art works, some researchers from the Chinese Palace Museum in Beijing and China's State Administration of Cultural Heritage came to work with us in Hong Kong last year.
They were amazed at the rarity and beauty of our auction lots."
Lum said that the company's committee of consultants also includes world-famous Chinese, European, and American art experts such as Cheng Shi-fa, Ye Peilan, Zhang Guangwen, Zhao Ziqiang, Zhang Juncai, Karl Appel and Robert Morgan.
An established Chinese-American artist, specialist and connoisseur of traditional art, Lum is also President of The Overseas Chinese Cultural Renaissance Association, founder of The American Lyric Impressionism, and co-founder, along with Jia Chen, of the Unconstrained Cursive Script.
"We consider our auctions an inseparable part of our long-term goal of promoting cultural and economic exchanges between China and the outside world. For the realization of such a grand goal, we need the substantial support of art-lovers everywhere, particularly museums, private collectors and connoisseurs from around the world," Lum said.

Today's Top News
Top Life News

China puzzled over US filing tax complaint at WTO




Chen, Annette Lu slightly wounded in shooting




Specific reform objectives set for banks




Bush urges allies to stick with united mission




Marriage bells toll in cyber churches




Chinese, French women hold dialogue