Chinese zookeeper mauled to death by tigers
(Agencies)
Updated: 2004-03-19 15:31
Siberian tigers mauled a zookeeper to death in southwestern China after he fell into their pen while trying to shoo them into a viewing area, a newspaper reported Friday.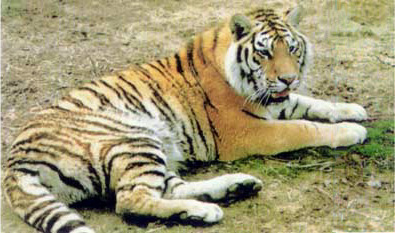 Siberian tiger
The attack happened Tuesday at the Bifeng Gorge Wild Animal Park in Sichuan province, the Beijing Times said.
Tang Mingli, 22, was on a 4-meter-high (13-foot-high) roof shooing the tigers out of a rest area with a metal rod when one jumped up and mauled his shoulder, knocking him into the pen, the report said.
Ten tigers bit Tang on the head, neck and shoulders, the newspaper said. Four of Tang's colleagues chased the tigers away after 10 minutes but by that time he was motionless and lying in a pool of blood.
Tang, who had worked at the zoo for three years, was rushed to a hospital but was declared dead within three hours, the newspaper said.
The Siberian tiger, also known as the Amur tiger, is one of the world's rarest species. Fewer than 400 are believed to survive in the wild _ about 20 of them in China and the rest in Russia.
The Chinese government's Forestry Administration placed all breeds of tigers under ``key state protection'' in 2001.

Today's Top News
Top China News

Pakistanis may be near bin Laden's aide al-Zawahri




Government relaxes control of airfares, finally




U.S. launches WTO complaint against China




Report: China, Iran sign US$20b gas deal




FM to pay official visit to DPRK




women bosses urged to date and marry