US Olympic team courts O'Neal, Garnett
(Agencies)
Updated: 2004-03-19 10:13
Shaquille O'Neal already has a gold medal from the Olympics, and now he has a chance to try to earn another.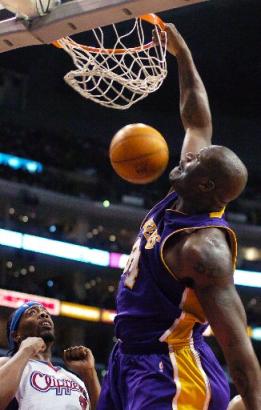 Los Angeles Lakers ' Shaquille O'Neal dunks over Los Angeles Clippers ' Melvin Ely during the first half Wednesday night, March 17, 2004, in Los Angeles. [AP]

The question is whether he will.

"I don't know yet," O'Neal said Wednesday night. "They are asking me. I haven't decided yet. I have to decide."

Two sources close to the USA Basketball selection committee, speaking on condition of anonymity, told the Associated Press on Wednesday that O'Neal and Kevin Garnett have been invited to play for the U.S. Olympic team.

One more spot remains open on the 12-man roster, and a second could open up if Kobe Bryant is unable to play because of his sexual assault trial in Colorado.

A third member of the Los Angeles Lakers, Karl Malone, has said he might withdraw from the team if his knee isn't 100 percent.

"For Karl, he's a bionic man. He can stay in shape," Lakers coach Phil Jackson said. "For Shaq, it might not be the best idea. It's an honor for a ballclub. I can't remember three guys from one team playing."

Selection committee chairman Stu Jackson acknowledged that two invitations had been issued, though he wouldn't specify who had been chosen.

"We'll wait and see if these two guys accept the invitations. Hopefully we'll know in a two-week time period, then we can decide about the rest of the team," Jackson said.

Jackson also confirmed that Cleveland Cavaliers rookie LeBron James is among a group of seven or eight players being discussed by the committee for the final roster spot.

"LeBron has been one of the many players we've considered as a possibility to add to this team outright, or in the case of injury, but there have been many players and many contingencies discussed," Jackson said.

Nine roster spots have already been filled on the team that will be coached by Larry Brown. The players are Bryant, Malone, Jermaine O'Neal, Jason Kidd, Mike Bibby, Tracy McGrady, Allen Iverson, Ray Allen and Tim Duncan.

The team opens training camp July 26 and plays its first game of the Olympics on Aug. 15.

O'Neal was a member of the U.S. team that won the gold medal in the 1996 Atlanta Olympics. He declined an offer to play for the American team in Sydney.

Garnett, who played for the U.S. team in 2000, also has said he's undecided about playing in Athens.

Vince Carter, who played for the U.S. team that qualified for Athens last summer at a tournament in Puerto Rico, said he will not accept if he's invited to play this summer.

"I'm just going to take it easy and let all the injuries heal, let my body heal. I've got a lot going on this summer, I'm just going to focus on that," said Carter, who plans to get married this summer.

"It's tough, because it is a wonderful experience," said Carter, who was a key player for the United States at the Sydney Games. "But I have my duties here, as well."
Today's Top News
Top Sports News

Office: Beijing watches Taiwan developments closely




State tightens farmland protection




Doctor starts 49-day fast to test TCM regimen




Fighting follows Afghan minister's killing




China values military ties with neighbors




Dad asks: 'Who's my kid's papa?'