Shen: Nothing to fear about S. Korea, Iran
(Xinhua)
Updated: 2004-03-19 09:54
Despite a 1-0 defeat by South Korea in its opening Olympic qualifying match, China's under-23 soccer team's head coach Shen Xiangfu refused to concede failure in qualifying for the Athens Games.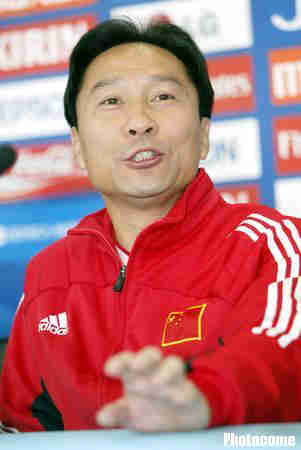 "There is nothing to fear about South Korea and Iran," said head coach Shen Xiangfu. [file/sina.com.cn]

With five games still to go, Shen believed that his team had a chance to play on the Olympic stage.

"We need to sort out our problems and we are going to take our remaining matches very seriously," said Shen on Thursday.

"There is nothing to fear about South Korea and Iran.

"As long as we have confidence in ourselves, get our preparations right, it is not impossible to chalk up consecutive victories.

"There was distinct pressure in the camp when we first arrived in Wuhan but over the course of training over the last few days, it is clear that the players are now stable mentally and physically.

"To play in such a big competition like the Olympic qualifiers, one must take on a certain amount of pressure. We are planning on intensifying training very soon, not just for the Malaysia game but specifically for the next few matches in mind."

China is scheduled to play Malaysia here on Saturday. In its first group qualifier, Malaysia blew away an early lead to eventually lose 4-1 to Iran.

Shen warned his player not to look down upon their Southeast Asian opponents.

"Malaysia played better than what we had expected," said Shen.

"They are very strong in midfield, able to pressure well and while they are physically not as big, they are very quick and are a very hardworking unit.

"They scored first against a very highly-rated Iran team and that was enough to show we can't take things for granted against them," he added.
Today's Top News
Top Sports News

Government relaxes control of airfares, finally




U.S. launches WTO complaint against China




Sources: Al Qaeda No 2 leader surrounded




FM to pay official visit to DPRK




women bosses urged to date and marry




As kids keep on calling, experts worry