Kosovo death toll rises to 31
(Agencies)
Updated: 2004-03-19 09:19
The death toll from two days of clashes between Kosovo Albanians and Serbs rose to 31 on Thursday as NATO beefed up its forces and vowed to stamp out ethnic violence.
Albanians set fire to Serb churches across the U.N.-governed province, including in the provincial capital, Pristina, where police fired teargas to disperse gangs of youths after nightfall.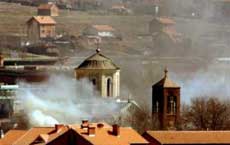 Smoke rise from a Serbian Orthodox church set on fire by ethnic Albanian rioters in the ethnically divided town of Kosovska Mitrovica March 18, 2004. Albanians set fire to Serb Orthodox churches in Kosovo on Thursday as NATO scrambled to deploy up to 1,000 more troops to stifle an explosion of ethnic violence. [Reuters]

Serbia and Montenegro's Defense Minister Boris Tadic said he expected more violence and appealed to NATO to do more to help bring it to an end.

"This is an emergency situation and we need the help of the international community," Tadic told a news conference in Bratislava, where he was attending a European forum.

The appeal came after the worst ethnic clashes in Kosovo since NATO and the United Nations took control of the province from Serbia in 1999, dealing a blow to Western hopes of increasing Balkan stability after the wars of the last decade.

U.N. spokeswoman Izabella Karlovicz said 31 people -- Serbs and Albanians -- were killed during two days, and 500 others were wounded.

"The thousands of ethnic Albanians that attacked KFOR, the police, Serb enclaves and churches should be aware of robust reserve forces," KFOR mission commander General Holger Kammerhoff of Germany told reporters in Pristina.

In New York, the U.N. Security Council met in emergency session at the request of Serbia and Montenegro, of which Kosovo, with its majority Albanian population, remains a part.

The 15-nation council was expected to call on Albanians and Serbs to halt the violence, refrain from inflammatory statements and bring those responsible to justice.

CHURCHES, MONASTERIES ABLAZE

A Serb official in Lipljan, central Kosovo, said about 300 Albanians were trying to enter a church protected by Finnish U.N. peacekeepers. Some threw hand grenades and Finnish troops fired back, municipal leader Borivoje Vignjevic told Reuters.

Serb Orthodox clergy in Kosovo said 17 churches, monasteries and convents had been looted or set ablaze.

Nuns from Devic Monastery, near Srbica, south of Mitrovica, were flown out on KFOR helicopters when at least 1,000 armed Albanians threatened the convent, the church said.

The Orthodox church in Pristina was also burning on Thursday evening and the priest was hiding in the cellar of his parish house next door, a spokesman at the Belgrade Patriarchy said.

In Serbia's three main cities, protesters stoned and burned mosques and other Islamic buildings, furious at what they called NATO's failure to check "terrorism."

The Supreme Allied Commander Europe, General James L. Jones said extra troops were being sent as part of "a prudent reinforcement" of 18,500 already there.

U.S. soldiers blocked the Pristina-Mitrovica road and were checking all travelers as 150 more U.S. troops and 80 Italian carabinieri arrived and Britain readied 750 troops.

"I do not exclude that in the coming days we may see more reinforcements," NATO Secretary General Jaap de Hoop Scheffer told reporters in Bratislava.

The violence began on Monday when a Serb teenager was wounded in a drive-by shooting. The following day three Albanian boys drowned in a river, reportedly after being chased by Serbs. On Wednesday, the province exploded.

Serbia's main representative on Kosovo, Nebojsa Covic, told Serbs in Mitrovica the violence was pre-planned. "This might be the decisive battle for Kosovo and the survival of Serbs in Kosovo and we must win," he said.

In a session of the Kosovo parliament, representatives of three main Albanian parties said the only way to calm Kosovo was to declare it independent.
Today's Top News
Top World News

Government relaxes control of airfares, finally




U.S. launches WTO complaint against China




FM to pay official visit to DPRK




Party calls for implementation of Constitution




As kids keep on calling, experts worry




Gov'ts urged to clear up payments in arrears