Sources: Al Qaeda No 2 leader surrounded
(Agencies)
Updated: 2004-03-19 07:57
The Pakistani military was preparing to launch a heavy air assault after sunrise Friday March 19 on al Qaeda troops believed to be protecting a "high-value" leader near the Afghanistan border, Pakistani sources said.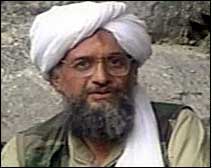 Ayman al-Zawahiri

Intelligence indicated the surrounded figure is Ayman al-Zawahiri, al Qaeda's No. 2 leader, two Pakistani government sources told CNN.

More than 200 well-trained and well-equipped al Qaeda fighters are trying to prevent al-Zawahiri's capture, an official in the intelligence services and another in the interior department said.

Government sources said 18 al Qaeda operatives and some tribesmen were captured two days ago, and the information they provided suggested al-Zawahiri was in the area.

Pakistani ground and air forces have "pounded" the area, which has a perimeter of 25 to 30 kilometers (12 to 15 miles), Pakistani President Pervez Musharraf told CNN. He did not name the al Qaeda figure believed to be surrounded.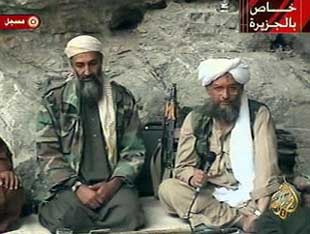 Osama bin Laden, left, with his top lieutenant Egyptian Ayman al-Zawahri, are seen at an undisclosed location in this television image broadcast Oct. 7, 2001. Graphic at top right reads 'Exclusive to Al-Jazeera.' At bottom right is the station's logo which reads 'Al-Jazeera.' At top left is 'recorded.' [AP]

The government sources said the military planned a heavy air assault at sunrise in hopes of preventing al-Zawahiri from escaping.

The sources said they were concerned the fighters could try to use the cover of darkness to flee across the border. While Pakistani forces are trying to seal off the area, they cannot not do so completely, the sources said.

The 52-year-old al-Zawahiri, an Egyptian national, is considered to be Osama bin Laden's closest adviser and is viewed by many analysts as the operational brains behind the al Qaeda terror network.

U.S. officials believe bin Laden may be within miles of al-Zawahiri.

Al-Zawahiri is one of the most-wanted terrorists in the United States. U.S. officials believe if he is captured, they could likely work out a deal with Pakistan to have him turned over to U.S. custody.

He was indicted along with bin Laden for his alleged role as mastermind of the 1998 bombings of the U.S. embassies in Kenya and Tanzania that killed 224 people.

U.S. government sources also believe he played a significant role in the September 11, 2001, attacks in Washington and New York.

National security adviser Condoleezza Rice said al-Zawahiri's capture would be a "major step forward," but she emphasized there is an entire network to break down, "not just one person."

U.S. officials said the United States was providing reconnaissance information to Pakistan, but they stressed it was a Pakistani operation.

The surveillance equipment included unmanned Predator aircraft armed with thermal cameras that can spot a person by their body heat.

White House communications director Dan Bartlett said he could not comment on whether there was U.S. involvement in the military operation.

Musharraf said he believed a "high value" al Qaeda target may be surrounded.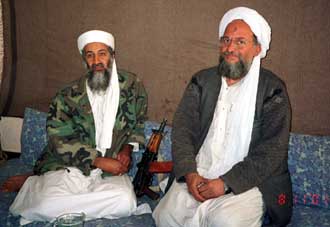 Osama bin Laden (L) sits with Al Qaeda's top strategist and second-in-command Ayman al-Zawahri in this 2001 file photo. [Reuters]

It was the "fierce resistance" that troops encountered when they entered the area two days ago that led them to believe a top official with the terrorist network was being protected, he said.

"They are not coming out in spite of the fact that we pounded them with artillery," he said.

Asked if he believed bin Laden or al-Zawahiri was hiding there, Musharraf demurred.

"I'm not going to say that because my previous experience is whenever I say it, then headlines come that he says, 'Al-Zawahiri is there,' or something like this," he said.

The "pitched battle" has already claimed the lives of some Pakistani troops, he said. The fighters believed to be with al Qaeda were holed up in "mud forts," he said.

The area in south Waziristan consists of a series of compounds, the sources said.

One U.S. official who is in touch with Pakistani officials about the situation said that Pakistani forces were "fighting like hell."

The military asked locals to leave, flew helicopters overhead and pounded the area with artillery, he said.

Word of the standoff came after Pakistan announced it had launched a fresh offensive against suspected militants near the Afghan border.

Hundreds of Pakistani troops backed by heavy artillery and helicopter gunships raided homes in the nation's tribal region of South Waziristan, two days after a fierce assault in the same area left dozens dead.

On Tuesday, at least 39 people were killed in a raid on suspected Taliban and al Qaeda militants in a fortress-like compound in Kaloosha, close to the border.

Fifteen soldiers died and Pakistani forces killed 24 suspects, most of them foreign fighters, military officials said.

Intelligence officers were questioning 18 people captured during the raids.

In retaliation, angry tribesmen torched more than a dozen military vehicles -- some loaded with ammunition -- on Tuesday and Wednesday.

'Finish the terrorists'

Pakistani Information Minister Shiekh Rashid Ahmed said on Thursday that "for the first time in the history, Pakistani forces have entered there to finish the terrorists."

"We are committed against terrorism and we have to pay the price," he said.

Pakistan forces have launched a number of sweeps for "suspected foreign terrorists" along the border after Afghan and U.S. officials complained they were escaping to sanctuaries in Pakistan.

About 70,000 Pakistan troops are in the tribal regions, and the recent offensive coincides with a major U.S. military operation on the other side of the border in Afghanistan to capture terror suspects.

Though a spring offensive across southern and eastern Afghanistan, called Operation Mountain Storm, is yet to be officially launched, U.S. military operations there have been stepped up.
Today's Top News
Top World News

Government relaxes control of airfares, finally




U.S. launches WTO complaint against China




Sources: Al Qaeda No 2 leader surrounded




FM to pay official visit to DPRK




women bosses urged to date and marry




As kids keep on calling, experts worry