As kids keep on calling, experts worry
(China Daily)
Updated: 2004-03-19 01:11
Cell phones are fascinating Chinese and transforming the popular landscape at an astonishing speed in the country.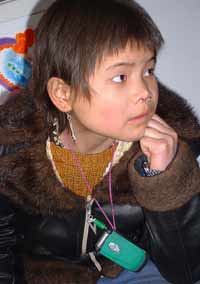 A primary school student in rural Shaoyang, Central China's Hunan Province, follows the fashion trends by using a mobile phone and wearing earrings and makeup. [newsphoto]

Better not show any surprise when seeing some teenager or even younger children chatting or sending short messages with their cell phones on campus.

Li Nie, a high school student from Lanzhou, capital city of Northwest China's Gansu Province, told Xinhua that more than half of his 44 classmates have a cell phone.

And those who do not own one want one badly, Li said. The kids think hearing a phone ring or playing a melodic tune is cool.

Confronted with this new scene on campus, experts from the educational, medical and psychological fields have varied opinions on kids with telephone fever.

For the sake of children's health and study, some say restrictions should be imposed on students who take cell phones to school.

There are university professors who won't let students inside their classrooms with the devices. If one rings, the student gets an automatic "F" for the day.

Scientists say there are plenty of reasons besides tough grades not to use the phones. The there has not been conclusive proof yet from across the globe confirming the relation between cell phones and diseases like cancer, many doctors believe cell phone radiation nonetheless can do harm to youngsters.

The Beijing Morning Post Thursday quoted a research study released by British scientists showing that kids with smaller ears and a thinner skull can absorb 50 per cent more radiation than adults when using a cell phone.

For a 5-year-old child, radiation will infiltrate half of his brain, while for a 10-year-old, radiation will affect 30 per cent of his grey matter, the report said.

Chinese doctors also claim facts prove cell phone radiation can do harm to youngsters' cranial nerve.

That can lead to headaches, a failing memory and sleep disorders, said Liang Xuanmei, a doctor with Lanzhou Chinese & Western Medicine Hospital.

Liang added those who play games on cell phones often may suffer impairments, too. Some get carpal tunnel syndrome and thumb disorders from pushing the buttons, while others suffer eyestrain.

In addition to all the physical harm that can befall them, , educators are concerned with cell phones' influence on children's study and personal skills.

Students make and receive calls during classes. Some play games all the time. During exams, cell phones have become a new means for cheating, as students send short messages to each other instead of the traditional cheating with paper notes.

Despite all the bad influences on study, cell phones can also affect students' mental health.

Yang Jianguo, an educator, notes that children are likely to develop a tendency of comparing their material life with other classmates, which is no good to their personality-building skills at all.

Not long ago, many primary and high schools in major cities announced bans on cell phones on campus, as a way expected of trying to solve the problem.

But psychologists doubt whether that can work.

Xie Yifan, a professor of psychology from Shanghai, notes that teaching students to learn self-discipline and guiding them to use cell phones in a healthy way is the only solution.
Today's Top News
Top China News

Pakistanis may be near bin Laden's aide al-Zawahri




Government relaxes control of airfares, finally




U.S. launches WTO complaint against China




Report: China, Iran sign US$20b gas deal




FM to pay official visit to DPRK




women bosses urged to date and marry