Kerry criticizes Bush's Iraq policy
By (Agencies)
Updated: 2004-03-18 14:53
U.S. Democrat John Kerry assailed President Bush on Wednesday for clinging to a failed policy that leaves Americans mired in Iraq "with the target squarely on their backs" while Vice President Dick Cheney argued that his boss' rival lacks the judgment to be commander in chief.
Marking the first anniversary of the invasion of the Persian Gulf nation, Kerry delivered a broadside to the incumbent's strategy toward Iraq, focusing on the unending hostilities, alienated allies and the loss of lives. As the presumptive nominee spoke, an explosion at a Baghdad hotel that killed more than two dozen was a stark reminder of the perils in postwar Iraq.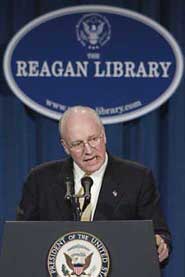 U.S. Vice President Dick Cheney speaks at the Ronald Reagan Presidential Library and Museum in Simi Valley, California March 17, 2004. Cheney criticized Democratic presidential candidate Sen. John Kerry's voting record and said his boss' rival lacks the judgement to be commander in chief. [Reuters]

Cheney, speaking on the other side of the country, praised Bush's victories in the war on terror and portrayed his boss as a strong, decisive leader ¡ª characteristics required for a wartime president and ones, he argued, that the Democrat lacks. The vice president devoted much of his speech to criticizing Kerry, citing his Senate votes against weapons and defense spending, and his opposite stands on Iraq.

Kerry voted against using military force in the 1991 Persian Gulf War to oust Iraq from Kuwait but the Massachusetts senator supported giving Bush the congressional authorization for war in 2002.

"Whatever the explanation ... it is not an impressive record for someone who aspires to become commander in chief in this time of testing for our country," Cheney said at the Ronald Reagan Presidential Library in Simi Valley, Calif. "Senator Kerry has been one vote of 100 in the United States Senate and fortunately on matters of national security he was very often in the minority.

"But the presidency is an entirely different proposition. The president always casts the deciding vote and the senator from Massachusetts has given us ample doubts about his judgment and the attitude he brings to bear on vital issues of national security."

Cheney added that if the decision had been Kerry's to make, deposed leader Saddam Hussein (news - web sites) would still be in power in Iraq. "In fact, Saddam Hussein would almost certainly still be in control of Kuwait," the vice president said.

Kerry, speaking at George Washington University, faulted Bush for leaving the nation's military "overextended and waiting for help" in an era of international crisis. The decorated Vietnam War veteran said Bush has alienated allies and left the country to go it alone in a global war on terror, while slashing deeply into support for veterans.

"We are still bogged down in Iraq and the administration stubbornly holds to failed policies that drive potential allies away," Kerry said. "What we have seen is a steady loss of lives and mounting cost in dollars with no end in sight."

Kerry delivered his speech flanked by former Secretary of State Madeleine Albright and former Joint Chiefs chairman Gen. John Shalikashvili, who is backing Kerry. Former Defense Secretary William Perry also was on hand.

"Today we know that the mission is not finished, hostilities have not ended, and our men and women in uniform fight on almost alone with the target squarely on their backs," Kerry said. "Every day they face danger and death from suicide bombers, roadside bombers, and now, ironically, from the very Iraqi police they are training."

Kerry said Bush's use of the armed services has been reckless and has left the military spread far too thin.

"The lesson here is fundamental: At times, conflict comes, and the decision must be made," said Kerry. "For a president, the decision may be lonely, but that does not mean that America should go it alone."

The Republicans have challenged the senator's votes on military issues and taken issue with his claim that foreign leaders have indicated to him that they prefer his candidacy to Bush's. GOP officials have called on Kerry to identify the foreign leaders, a request he has declined.

At least one, Spain's Prime Minister-elect Jose Luis Rodriguez Zapatero, signaled his dislike of Bush's policies during the Spanish election campaign when he said he hoped Kerry would win in November.

The International Herald Tribune recently quoted Zapatero as saying, "We're aligning ourselves with Kerry. Our allegiance will be for peace, against war, no more deaths for oil, and for a dialogue between the government of Spain and the new Kerry administration."

Cheney implied that if elected, Kerry would be beholden to "unnamed foreigners" in determining U.S. policy. "He speaks as if only those who openly oppose America's objectives have a chance of earning his respect," the vice president said.