Zapatero: Iraq occupation a 'fiasco'
(Agencies)
Updated: 2004-03-18 09:16
Spain's new leader intensified his criticism of the U.S.-led occupation of Iraq on Wednesday, saying it was "turning into a fiasco."
Prime Minister-elect Jose Luis Rodriguez Zapatero also refused to reconsider his pledge to pull his 1,300 troops out of Iraq by June 30, in a sharp break with the Bush administration.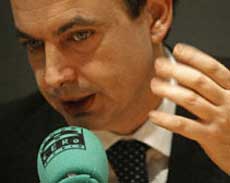 Zapatero's rebuff came in a Spanish radio interview Wednesday Mar 16, 2004. [AFP]

Zapatero had signaled his dislike of U.S. President Bush's policies during the Spanish election campaign when he said he hoped U.S. Democratic challenger John Kerry would win in November.

The International Herald Tribune recently quoted Zapatero as saying, "We're aligning ourselves with Kerry. Our allegiance will be for peace, against war, no more deaths for oil, and for a dialogue between the government of Spain and the new Kerry administration."

In the hourlong interview Wednesday on Onda Cero radio, Zapatero said that "fighting terrorism with bombs ... with Tomahawk missiles, isn't the way to defeat terrorism. ...

"Terrorism is combatted by the state of law. ... That's what I think Europe and the international community have to debate," he said.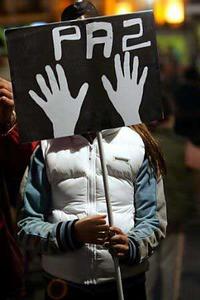 A girl holds up a banner reading 'peace' during a march in honor of the victims of Madrid's bombings, in the Spanish city of Alcala de Henares, one of the worst hit communities, March 16, 2004. [Reuters]

Zapatero said the Iraq occupation "is turning into a fiasco," noting that "there have been almost more deaths since the end of the war" than during last year's U.S.-led invasion, and the United Nations still is not in control.

The outgoing conservative government of Prime Minister Jose Maria Aznar supported the war against the wishes of the majority of Spaniards. Spanish troops did not fight in the invasion but were sent in afterward.

"I'll explain to our allies, which include the United States, of course, and Britain ... what my position is," Zapatero said.

About how he might respond if Bush asked him to reconsider, Zapatero said, "I will listen to Mr. Bush, but my position is very clear and very firm."

About 5,000 pro-Aznar demonstrators gathered outside the conservative Popular Party's headquarters in downtown Madrid, deriding Zapatero as "the president of al-Qaeda." They dispersed about 30 minutes after the party's defeated candidate, Mariano Rajoy, appeared and applauded at a balcony.

In the interview, Zapatero also said he would better coordinate Spain's police agencies, which failed to prevent last week's Madrid train bombings that killed 201 people. Authorities knew the whereabouts and potential danger of a top suspect and his alleged links with al-Qaeda.

He tried to reassure Spaniards that his government would relentlessly hunt down terrorists.

"They will not have a moment of rest," Zapatero said, adding that he would have a single director for both the Civil Guard and the National Police, which currently answer to two chiefs.

The Spanish government, meanwhile, said a judge has imposed a secrecy order on the police investigation into the attacks, apparently to avoid compromising the hunt for suspects.

Interior Minister Angel Acebes insisted progress was being made, adding that investigators were still combing for clues, including from a videotape in which a purported al-Qaeda spokesman claimed responsibility.

European and U.S. police and intelligence agencies are helping the inquiry ¡ª cooperation that is "not only necessary but absolutely indispensable," Acebes said at a news conference.

Jamal Zougam, a Moroccan phone salesman who was arrested two days after the bombings, is emerging as the key suspect. Spanish law enforcement agencies had been aware of his alleged links to al-Qaeda since at least 2001, when they searched his apartment.

Moroccan authorities, who considered Zougam a "very active terrorist," warned Spanish police in 2003 that he was returning to Spain, the Barcelona daily El Periodico reported.

But Acebes said that to his knowledge, there was no arrest warrant for Zougam before March 11.

Police were interrogating two other Moroccans, including Zougam's half brother, and two Indian men also arrested Saturday.

The daily El Pais reported that police also suspect that five other Moroccans, who were still at large, took direct part in the train bombings.

Authorities increasingly suspect an al-Qaeda-linked cell carried out the bombings.

Police believe the two Indians were involved in the sale of cell phones or prepaid phone cards used to detonate the string of bombs, according to Spanish media.

El Pais reported Wednesday that the fingerprints of one of the Indians, Vinay Kohly, matches one found at the scene of a 2001 killing in Madrid.

Police investigating the killing of Indian shop owner Kamal Karamchan Dad in his electronics shop found the fingerprint on tape that was used to bind the victim's hands and feet. He was asphyxiated with a plastic bag during an apparent robbery.

The fingerprint did not match any database until Kohly's prints were run after his arrest Saturday, El Pais said.

Zougam has already been identified in court documents as a follower of Imad Yarkas, the alleged leader of Spain's al-Qaeda cell who is jailed on suspicion he helped plan the Sept. 11, 2001, attacks on the United States.

Also Wednesday, an Algerian who in January allegedly threatened mass bloodshed in the Spanish capital was brought under tight security to a Madrid court to determine if he knew of the attack beforehand.

Bomb-sniffing dogs, Civil Guards and national police guarded the building as Ali Amrous was rushed inside in a vehicle.

When Amrous, an apparent indigent and illegal resident, was first arrested in January in the northern city of San Sebastian after a neighborhood disturbance, he shouted at officers: "We will fill Madrid with the dead," police said.

After questioning Amrous, anti-terror Judge Baltasar Garzon extended his detention for another 48 hours.
Today's Top News
Top World News

Tsang: HK not a testing ground for political system




China's first large aircraft to fly by 2018




Nation urges lift of poultry import ban




Car bomb destroys Baghdad hotel, killing 29




Efforts urged to rescue kidnapped Chinese




NASA develops 'thought-reading' software