Car bomb destroys Baghdad hotel, killing 29
(Agencies)
Updated: 2004-03-18 07:54
A thunderous car bomb tore apart a five-story hotel catering to foreigners in the heart of Baghdad on Wednesday night, killing 29 people and showing the continued vulnerability of civilians to terror attacks just days before the anniversary of the start of the Iraq war.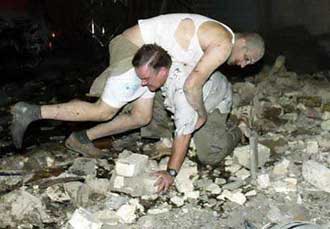 A man is rescued from the rubble after a bomb explosion at Mount Lebanon hotel in central Baghdad March 17, 2004. [Reuters]

Flames and heavy smoke burst skyward from the Mount Lebanon Hotel, torching nearby homes, offices and shops. Rescuers pulled bodies from the rubble and searched for other victims of the attack, which wounded more than 50 people.

There was no official word on who carried out the attack but a U.S. counterterrorism official, speaking on the condition of anonymity, said Jordanian Islamic militant Abu Musab al-Zarqawi is among those suspected of playing a key role.

Dazed and wounded people stumbled from the wreckage, marked by a jagged, 20-foot-wide crater. A father cradled his young daughter, who was limp in his arms. Coated in dust, some rescuers dug through the debris with bare hands as uniformed firefighters fought the blaze and ambulance workers stood by with orange stretchers.

"It was a huge boom followed by complete darkness and then the red glow of a fire," said 16-year-old Walid Mohammed Abdel-Maguid, who lives near the hotel. A U.S. soldier a mile away said the blast - which took place about 8 p.m. - felt as though it were next door.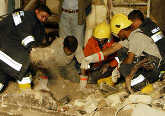 Iraqi rescuers comb the rubble of a house for buried victims after a bomb explosion at an adjacent hotel in central Baghdad March 17, 2004. [Reuters]

Army Col. Ralph Baker of the 1st Armored Division estimated that the bomb contained 1,000 pounds of explosives. He said the bomb was a mix of plastic explosives and artillery shells. That was the same mixture of explosives used in the Aug. 19 suicide attack on the U.N. headquarters in Baghdad, which killed 22 people.

Americans, Britons, Egyptians as well as other foreigners were staying at the Mount Lebanon Hotel, said Baghdad resident Faleh Kalhan. But some residents in the area said they believed guests left the hotel a week ago after its management received threats. If true, many casualties were likely in adjacent buildings. The British Broadcasting Corp. reported that two Britons were among the wounded.

The blast ignited at least eight cars, one of which was hurled into a store. Some vehicles were little more than mangled piles of metal. The explosion blew bricks, air conditioners, furniture, wires and other debris hundreds of yards from the hotel.

The Mount Lebanon was a so-called soft target because it did not have concrete blast barriers and other security measures that protect offices of the U.S.-led coalition and buildings where Westerners live and work.

The Bush administration offered prayers for the victims but said such attacks would not change U.S. policy.

"Democracy is taking root in Iraq and there is no turning back," said Scott McClellan, White House spokesman. "This is a time of testing, but the terrorists will not prevail."

The attack came just three days before the first anniversary of the start of the U.S.-led war to topple Saddam Hussein. It took place behind Firdaus Square, where Iraqis toppled a bronze statue of Saddam on April 9 with the help of U.S. Marines who had just entered the center of the capital.

After the blast, American forces and Iraqi ambulances hurried to the scene. Dozens of U.S. soldiers in Humvees and Bradley fighting vehicles cleared crowds. Earlier, two U.S. soldiers tried to help pull bodies from the wreckage of the hotel, but angry Iraqis pushed them back.

The explosion left a crater 20 feet wide and 10 feet deep, and American forensic experts studied the scene. The area of the blast, Karrada, is a mix of residential and commercial buildings.

The blast shook the nearby Palestine Hotel, where many foreign contractors and journalists are based. It also damaged the nearby Swan Lake Hotel, home to many foreigners, including several journalists. The power of the bomb left the bureau of Arabic Al-Jazeera satellite television in a shambles, with windows smashed and televisions hanging from cords.

"All of our offices in this hotel are nearly destroyed. I was typing some information for a story and the windows blew in and covered me," said the bureau's senior editor, Mohammed Abdul Rahim, a Syrian.

No one in Swan Lake Hotel appeared to be wounded.

Gwenaelle Lenoir, a reporter for French Channel 3 television, was dazed.

"We were just finishing mixing our story and we heard a very big boom and there were no more windows and no more lights," she said.

Across the street from the Mount Lebanon Hotel, the one-story house of a Christian family of seven was virtually destroyed. The bodies of a man and a woman were pulled from the debris.

A two-story annex belonging to the Baghdad Hospital was in flames, with one side sheared off. A separate two-story complex of offices and shops was also badly damaged.

The blast startled occupants of the Green Zone, a heavily protected area that houses the headquarters of the U.S.-led occupation across the Tigris river from the hotel.

"We felt the blast here, it was a huge blast," U.S. Army Col. Jill Morgenthaler said. "We're a mile south of that and I thought it was striking next door."

Assailants, including suicide bombers, have repeatedly carried out bomb attacks in Iraq since August. The targets have included Iraqi police stations, army recruiting centers, the U.N. headquarters and the offices of the international Red Cross.

Brig. Gen. Mark Hertling, deputy commander of the 1st Armored Division said he did not believe Iraqis linked to former ruling Baath party were behind the attack, saying that they are believed to be focusing attacks on U.S. soldiers.

"We're going after the extremists in Iraq and the extremists coming from outside Iraq," Hertling said. "It's just so frustrating. ... You take three steps forward and something like this happens and you take one step back."

Referring to a possible role in the attack by al-Zarqawi, the counterterrorism official said that while there were other possibilities, the Jordanian has had a role in a number of large attacks.

However, "it's not his style to claim responsibility for attacks. At this point, it is not clear who is responsible," the official added.

The official said there has been a continuing trend of hitting "soft targets" such as hotels or other civilian sites in Iraq.

OTHER DEVELOPMENTS:

The Iraqi Governing Council asked U.N. Secretary-General Kofi Annan to send back a U.N. team to help put together a government that would take over from the U.S.-led coalition on June 30. The council also requested technical assistance ahead of a general election due by the end of January 2005.

U.S. and Iraqi military forces launched a large operation to weed out insurgents and seize illegal weapons. They used troops, helicopters and armored vehicles to raid a suspected arms market in the capital.

A homemade bomb exploded in central Baghdad, wounding a U.S. soldier and two Iraqi security personnel as they patrolled the area, U.S. Army Col. Peter Jones said.

A U.S. Bradley fighting vehicle overturned into the Tigris River in central Iraq, killing one 1st Infantry Division soldier and injuring two others, the military said.

Insurgents used dynamite to attack an overpass on the main highway leading from Baghdad to Jordan, causing it to partly collapse and block one side of the road, witnesses said.
Today's Top News
Top World News

Tsang: HK not a testing ground for political system




China's first large aircraft to fly by 2018




Car bomb destroys Baghdad hotel, killing 29




Efforts urged to rescue kidnapped Chinese




NASA develops 'thought-reading' software




Hitler returns to Berlin -- in wax