Agassi, Coria gain at Pacific Life
(Agencies)
Updated: 2004-03-17 14:40
Andre Agassi moved into the quarterfinals of the Pacific Life Open with a 7-5, 6-2 victory over Mikhail Youzhny on Tuesday night.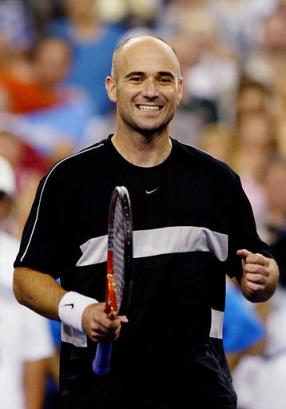 Andre Agassi smiles after defeating Russia's Mikhail Youzhny 7-5, 6-2 in their fourth-round match at the Pacific Life Open Tuesday, March 16, 2004, in Indian Wells, Calif. [AP]

Top-ranked Roger Federer, Juan Ignacio Chela and Guillermo Coria also were among the fourth-round winners.

In the women's competition, Lindsay Davenport earned a quarterfinals berth by again winning in straight sets.

Federer ran his record for the year to 19-1 with a methodical 6-4, 6-1 victory over Mardy Fish. The win was the Swiss star's 24th in 25 matches dating to his Tennis Masters Cup championship last November.

Chela, who ousted two-time defending champion Lleyton Hewitt a day earlier, came back with a 6-4, 6-2 victory over Tommy Haas.

Coria lost the first set but came back to beat Sebastien Grosjean 3-6, 7-6 (2), 6-2.

Former No. 1 Davenport, back at full strength after fighting injuries the past three years, beat Meghann Shaughnessy 6-1, 6-3.

Federer played his usual steady game to beat Fish, making just 11 unforced errors to Fish's 28. Fish also had five double faults.

Chela followed his three-set win over Hewitt ¡ª ending the Australian's 13-match winning streak ¡ª with a similarly consistent performance against Haas.

The 24-year-old Argentine was especially effective with his spinning, hard-to-handle second serves, winning points on 15 of his 18 in the match.

"I think that my match with Hewitt gave me a lot of confidence," said the 34th-ranked Chela, speaking through an interpreter. "I'm ready for the most important points, to get them and carry it out."

Haas, a former No. 2 coming back from 2002 shoulder surgery that sidelined him all last year, complimented Chela.

"He counter-punched really well the whole time," Haas said. "He didn't make any easy mistakes, played really solid and hit all the balls back."

Davenport, ranked No. 4, looked entirely back in form. She has lost only seven games in three matches this week at Indian Wells, where she has appeared in four of the last seven finals and won twice.

She underwent surgery last October to sever a nerve between the third and fourth toes on her left foot and relieve pain that had been hampering her.

Because of a string of ailments that began in 2001, Davenport was beginning to wonder if she should call it a career at 27.

She said the thought crossed her mind while she was in Hawaii last fall that "Maybe I'm done."

She laughed and added, "Certainly sitting on a beach in Hawaii, I seemed very close. But it always seems like you never want to come back from Hawaii."
Today's Top News
Top Sports News

Pakistanis may be near bin Laden's aide al-Zawahri




U.S. launches WTO complaint against China




Report: China, Iran sign US$20b gas deal




Government relaxes control of airfares, finally




FM to pay official visit to DPRK




S. Korea won't send troops to Iraqi city