Whitney Houston enters drug rehab center
(Agencies)
Updated: 2004-03-17 11:22
Grammy-winning pop singer Whitney Houston has entered a drug rehabilitation facility, her publicist said.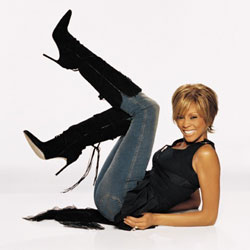 Grammy-winning pop singer Whitney Houston [File photo]

Houston "thanks everyone for their support and prayers," publicist Nancy Seltzer said in a statement Monday. She declined to offer any further details.

Houston, 40, admitted in a December 2002 television program that she had abused drugs in the past, but told interviewer Diane Sawyer on ABC's "Primetime" that she had gotten beyond that time through prayer.

Houston's husband, R&B singer Bobby Brown, was sentenced to 60 days in jail in late February for violating probation. One of the violations included a December misdemeanor battery charge for allegedly striking Houston, leaving her with a bruised cheek and a cut inside her lip.

In January 2000, Houston left behind a bag at Keahole Kona International Airport in Hawaii that allegedly held less than half an ounce of marijuana and three partially smoked marijuana cigarettes.

In 2001, a petty misdemeanor drug charge relating to the incident was dismissed against Houston after a drug counselor filed an assessment with prosecutors stating that Houston did not require treatment for substance abuse.

Brown and Houston have been married since 1992 and have a 10-year-old daughter, Bobbi Kristina.
Today's Top News
Top Life News

China puzzled over US filing tax complaint at WTO




Chen, Annette Lu slightly wounded in shooting




Specific reform objectives set for banks




Bush urges allies to stick with united mission




Marriage bells toll in cyber churches




Chinese, French women hold dialogue