Bryant's 38 lifts Lakers over Magic in OT
(Agencies)
Updated: 2004-03-17 09:54
Kobe Bryant scored all but one of his 38 points after halftime, including a franchise record-tying 24 in the fourth quarter Monday night, and the Los Angeles Lakers rallied to beat the Orlando Magic 113-110 in overtime.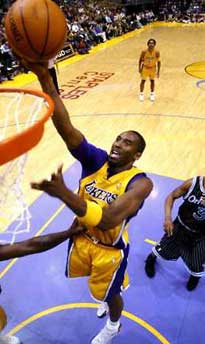 Los Angeles Lakers' guard Kobe Bryant goes up to score against Orlando Magic during the Lakers 113-110 overtime win in Los Angeles, March 15, 2004. Bryant was the high scorer with 38 points, with 24 in the fourth quarter, setting a NBA record for the most points scored in a quarter. [Reuters]

Bryant scored the last 10 points in regulation to force overtime, but the main topic of conversation afterward was his defense on Tracy McGrady.

"That's the best defense I've seen him play since I've been here ¡ª without a doubt," Karl Malone said.

"I think of myself as a throwback ¡ª not only can I score the basketball, I can keep people from scoring," Bryant said.

McGrady, the NBA's leading scorer, had 37 points to give him 139 in the last three games. But he scored only five in the fourth quarter and overtime, when he was guarded by Bryant.

"He does a great job moving his feet, moving his hands, he's quick," McGrady said. "He's a great individual defender."

In the other NBA games Monday night, Phoenix beat Houston 99-97 in overtime and Golden State downed San Antonio 97-80.

Bryant guarded McGrady only occasionally until the fourth period, and the Orlando star pretty much scored at will, getting 32 points in the first three quarters to lead his team to an 88-73 lead.

"He wanted to guard McGrady coming out of halftime, but I felt like we needed his offense," Lakers coach Phil Jackson said. "But he really scored most of his points while he was guarding McGrady."

McGrady's short jumper with 3:58 remaining in regulation gave Orlando a 102-92 lead. Bryant then outscored the Magic 10-0 by himself capped by a left-handed layup with 41.5 seconds left that tied it at 102.

McGrady and Bryant each missed shots after that. The Magic got the ball back with 1.8 seconds left and McGrady made a wild bank shot from about 25 feet away, but didn't release it until after time expired.

Bryant made the first basket of overtime for his final points.

"In overtime, everybody had a hand in it. He got us to overtime," said Malone, playing his first home game and third overall since being sidelined nearly three months with a knee injury.

Gary Payton, who had 12 points and nine rebounds, made a 3-pointer from the left corner with 1:44 left to snap a 110-all tie and complete the scoring.

DeShawn Stevenson's 3-pointer at the buzzer fell far short.

Shaquille O'Neal had 27 points, a season-high 23 rebounds and five blocked shots for the Lakers, who trailed by 19 late in the third period.

By winning for the sixth time in eight games, the Lakers (44-23) moved a season-high 21 games over .500 and into third place in the Western Conference, a half-game ahead of the Spurs.

The loss was the sixth in eight games for the Magic (19-50), who are an NBA-high 31 games below .500.

"I wish we could play like that every night ¡ª we'd be a pretty good team," McGrady said. "To come in here and put their backs up against the wall the way we did, it was great on our part. I don't know why we can't play like that every night."

Juwan Howard had a season-high 29 points and nine rebounds, and Stevenson scored 18 for the Magic. McGrady also had seven rebounds and 10 assists.

Bryant's 24 fourth-quarter points tied a franchise record for points in a quarter set by Elgin Baylor in 1960 and equaled by Jerry West two years later.

"That's cool, man. That's great company," a smiling Bryant said.

Bryant's teammates scored only five points in the fourth quarter.

The game was similar to the one between the teams in Orlando last month, when the Lakers trailed by 18 in the third quarter and 14 entering the final period before rallying for a 98-96 victory.

Suns 99, Rockets 97, OT

At Houston, Joe Johnson made a 16-foot jumper with 1.4 seconds to play in overtime as the Suns snapped the Rockets' five-game winning streak.

Shawn Marion had 17 of his 29 points in the second half, including a tying 3-pointer with 6 seconds left in regulation. The Suns rallied from 21 points down in the second quarter to end their four-game losing streak.

Yao Ming had 29 points, 19 rebounds and six blocked shots for Houston.

Warriors 97, Spurs 80

At Oakland, Calif., Jason Richardson scored 22 points and Golden State snapped a season-high nine-game losing streak.

Tony Parker had 29 points, five rebounds and six assists for San Antonio. Tim Duncan missed his second straight game, and ninth in 10 because of irritation in his left knee. The Spurs are 5-4 without the two-time league MVP.

Mike Dunleavy added 19 points, and Erick Dampier 16 and 11 rebounds for the Warriors, who hadn't won since point guard Speedy Claxton broke his right hand Feb. 27.
Today's Top News
Top Sports News

China works to address U.S. concern on trade deficit




China, EU consolidate partnership




New planetoid Sedna discovered




Two Chinese abducted by rebels in Sudan




China, France hold joint naval drill




Pakistan kills two dozen terror suspects