Pakistan kills two dozen terror suspects
(Agencies)
Updated: 2004-03-17 09:33
Paramilitary troops stormed a fortress-like compound with mortars and machine-gun fire Tuesday, killing 24 suspects in a fierce crackdown on al-Qaeda and Taliban fugitives in the rugged tribal regions bordering Afghanistan, the army spokesman said.
The operation ¡ª which left at least eight Pakistani troops dead and 15 wounded ¡ª was a stunning message delivered just one day after the military president promised to rid the territory of foreign terrorists. There have been several anti-terror operations in the semiautonomous tribal belt in recent months, but none so bloody.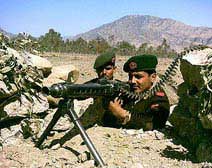 Pakistani paramilitary soldiers man a machinegun at a checkpost in Wana. [AFP]

The raid came as U.S. Secretary of State Colin began a trip to the region. Powell was in India Tuesday and planned visits to Palistan and Afghanistan starting Wednesday.

Brig. Mahmood Shah, security chief in the tribal regions, said the raid was "the most deadly" in memory in the tribal areas.

"There will be more such operations," he told The Associated Press. "We will continue these operations until it is assured that our tribal areas have been purged of foreign terrorists."

Army spokesman Gen. Shaukat Sultan said 24 suspects were killed in the raid, which began shortly after 5 a.m. near Wana, in the South Waziristan region, just a few miles from the Afghan border.

The majority of those killed appeared to be tribesmen suspected of sheltering the terrorists, but Sultan said several of the dead were also foreigners presumed to be members of al-Qaeda. There was no indication any senior al-Qaeda or Taliban leaders were among the dead, though most of those killed had not yet been identified.

The operation followed an announcement over the weekend that American forces are stepping up a sweep on the Afghan side of the border to capture al-Qaeda and Taliban holdouts, including terror chief Osama bin Laden and Taliban leader Mullah Omar.

Sultan said soldiers were able to retrieve only a small number of the dead suspects because of continued tension in the region, though the fighting had ended by Tuesday evening. The bodies of all eight dead soldiers were taken to army headquarters at Wana.

About 700 paramilitary forces began the operation early Tuesday in Kaloosha, a village about six miles west of Wana, the main town in South Waziristan.

A Kaloosha resident, Qasim Khan, said paramilitary troops exchanged fire with people inside the mud-brick compound, which had several low-flung buildings in it and was surrounded by a high wall and several lookout towers. The fortress-like design is common in the lawless tribal belt.

It was unclear who was inside, but it was believed to belong to one of seven tribesmen from the Yargul Khel clan accused of harboring al-Qaeda and Taliban suspects. The seven have refused to surrender to authorities.

"We are not allowed to go out of our homes," Khan told an AP reporter by telephone from the besieged village.

The operation was the latest in a series of military sweeps in Pakistan's semiautonomous tribal regions. President Gen. Pervez Musharraf vowed on Monday to rid the areas of suspected terrorists, and acknowledged for the first time that 500-600 foreigners were sheltering in the region. He appealed to tribal elders for their cooperation in the counterterrorism drive.

His comments came after police on Monday defused a large car bomb outside the U.S. Consulate in the southern city of Karachi minutes before it was timed to detonate.

U.S. forces in Afghanistan over the weekend announced the start of Operation Mountain Storm, a large-scale sweep to hunt down al-Qaeda and Taliban fugitives believed to be hiding in the border region.

Lt. Col. Bryan Hilferty, a spokesman for the U.S. military in Afghanistan, said Tuesday that U.S. forces were involved in ongoing checkpoint and house searches and patrols in Paktika, the Afghan province bordering South Waziristan. He said American commanders "continue to coordinate and cooperate" with the Pakistanis, but would not say if there were any operations linked to the Wana crackdown.

Paktika Deputy Gov. Sadokhan Ambarkhil told AP he had no information about any military activity on the Afghan side of the border, but that drivers coming from the border region had told of U.S. forces carrying out an operation last Friday.

He had no details or firsthand information.

"We have no administration in those areas," he said.

Pakistan is a key ally in the U.S.-led war on terrorism, but has faced criticism because rebels of al-Qaeda and Afghanistan's former ruling Taliban regime are believed to still be launching attacks in Afghanistan from Pakistani soil.

In the past two years, Pakistan has deployed 70,000 troops in the tribal areas for the first time since independence, and has staged five military operations.

Last month, army troops using helicopter gunships and artillery raided several villages near Wana, capturing 25 people, none of whom was reported to be a top al-Qaeda or Taliban figure.
Today's Top News
Top World News

China works to address U.S. concern on trade deficit




China, EU consolidate partnership




China, France hold joint naval drill




Two Chinese abducted by rebels in Sudan




Dark, frigid Sedna lights up astronomers' lives




Ministry still on alert against bird flu