Ministry still on alert against Bird Flu
By Qin Chuan (China Daily)
Updated: 2004-03-16 23:38
China is no longer facing Bird Flu restrictions after the Ministry of Agriculture lifted the veil of isolation surrounding the nation's two remaining quarantined areas Tuesday.
While announcing the move, the ministry's spokesman said the situation is still grave, adding that no effort should be spared in preventing and controlling the potentially deadly high pathogenic avian influenza (HPAI).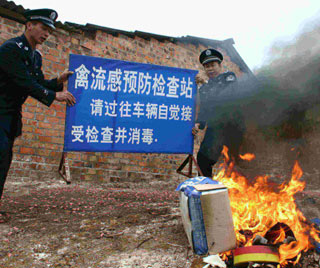 Local policemen remove and burn signs marking and isolating Bird Flu-infected areas in the Xingning District of Nanning March 16, 2004. [newsphoto]
And any cover-ups of Bird Flu outbreaks are strictly prohibited by the country's animal epidemic prevention law and violations will be dealt with severely, he said.
The two areas now free from quarantine are Nanning in South China's Guangxi Zhuang Autonomous Region and Lhasa in Southwest China's Tibet Autonomous Region.
A total of 49 areas in 16 provinces, municipalities and autonomous regions have been isolated since January 27 due to the disease.
Jia Youling, spokesman in charge of Bird Flu control at the ministry, said no new HPAI cases nor cases of human infection have been reported in the past 29 days.
He attributed the success of curbing the spread of Bird Flu to strictly conducted mass culling operations and compulsory vaccinations in Bird Flu-affected areas.
Since the first case was confirmed in Dingdang Town in Guangxi's Long'an County January 27, China has killed nearly nine million chickens.
However, Jia said a relapse could easily occur, heightening the need for intensified preventative measures.
The ministry is calling on animal husbandry and veterinary authorities to strictly follow the preventative plans laid out by the National HPAI Prevention and Control Headquarters.
The nation will also build an effective and long-term epizootic prevention mechanism to enhance its overall control capacity.
Meanwhile, China will help producers and consumers to establish confidence, farmers to restock and enterprises to resume their business in a bid to limit the losses from the epidemic.
In addition to the eight general measures released by the State Council in February to support the poultry industry, backing will be given to key breeding stock farms -- particularly those hardest hit -- to stabilize breeding capacity.
Efforts will also be made to guide the poultry industry to alter farming patterns by encouraging the establishment of special poultry farming zones, the standardization of poultry farming and improving conditions for disease control.
In relation to a Bird Flu vaccine, Jia said China effectively used the H5N2 inactivated vaccine to prevent the spread of the highly infectious H5N1 strain of the virus.
Chinese scientists developed an inactivated vaccine using the H5N2 strain removed from geese in Foshan, South China's Guangdong Province, in 1996. They also have been developing a H5N1 fowlpox vaccine.
Both vaccines are expected to play a key role in preventing and controlling the spread of the virus in China, Jia said.
In its fight against Bird Flu, China has co-operated well with international organizations such as the Food and Agriculture Organization (FAO) and the World Health Organization (WHO), Jia said.
China has participated in the FAO's Northeast Asia Bird Flu prevention laboratory diagnosis and surveillance project, which also includes such countries as the Democratic People's Republic of Korea and Mongolia.
China's Ministry of Commerce has provided US$450,000 for six Association of Southeast Asian Nations (ASEAN) members, including Thailand, Vietnam and Indonesia, to help fight the disease.
And the Ministry of Agriculture has provided Bird Flu prevention materials to Vietnam and Thailand.
Also, China has promised it will open its Bird Flu reference laboratory to ASEAN members to help them train technicians, Jia said.
In return, ASEAN countries will provide virus strains and gene sequencing to China.
China has provided four living Bird Flu virus strains to the WHO, which have been separated in Hong Kong and will be helpful for the production of vaccines for humans, Jia said.
Today's Top News
Top China News

Office: Beijing watches Taiwan developments closely




State tightens farmland protection




Doctor starts 49-day fast to test TCM regimen




Fighting follows Afghan minister's killing




China values military ties with neighbors




Dads ask: 'Is this my child?'