China, France hold joint naval drill
(China Daily)
Updated: 2004-03-16 23:38
China and France staged their biggest joint naval exercises to date Tuesday, marking a "sign of the good Sino-French relations."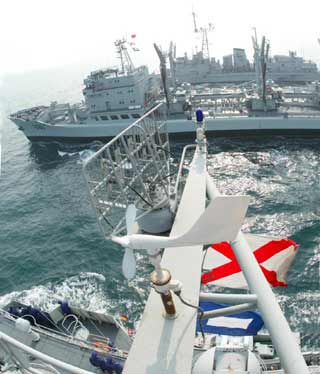 Chinese and French warships ships get supplies during a joint naval exercise, in east China's port city of Qingdao, Shandong Province, March 16, 2004. [newsphoto]

"They are the most comprehensive military exercises ever held between China and a foreign country," said Ju Xinchun, captain of the Chinese guided missile destroyer Harbin.

The exercise lasted about 8 hours and involved about 700 seamen. They were jointly led by Zhang Panhong, chief of the general staff of the North China Sea Fleet of the People's Liberation Army Navy, and Louis De Contenson, navy commander of the French Pacific Military Region.

China's destroyer "Harbin" and tanker ship "Hongze Lake" as well as French anti-submarine-warfare destroyer "Latouche-Treville" and light frigate "Commandant Birot" played key roles in the maritime exercises.

After the exercises, the French naval fleet left for Singapore from the high sea.

The eight-hour exercises included ship and shipboard helicopter tactic maneuvers, refueling exercises at sea, communication and search and rescue exercises, sources from the North China Sea Fleet said.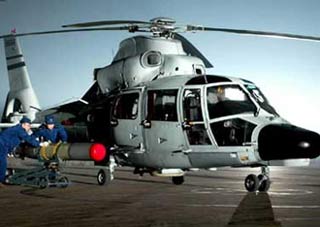 The picture shows the Chinese shipboard helicopter in the exercise. [Xinhua]


A French military source said the joint exercises have reached a high standard and are very technical.

The destroyer "Harbin" represents a development in China's maritime capacity, being one of the most advanced warships ever produced in the country. It has comprehensive defensive capability, including anti-submarine capabilities and ship to air missile systems. It has visited eight countries during its four friendly foreign tours since it began operating in 1994.

The French naval fleet with 322 crew members arrived in Qingdao, a port city in East China's Shandong Province Friday morning.

The joint naval exercises are helpful in enhancing co-ordination, communication and mutual trust at sea between the two navies, Christine Allain, second-in-command of the French light frigate Commandant Birot, said in an interview with Xinhua.

The five-day tour is the 12th visit by French warships to China, including Hong Kong, since 1978, and the fourth to Qingdao, the base of the North China Sea Fleet.

Ju said the French navy, founded in the 17th century, has a long history and strong combat effectiveness.

"The French navy is experienced and we are eager to learn from them their experience in co-ordination skills in joint military exercises," said Ju.

When asked whether the exercises were aimed at sending some message to Taiwan before its "elections" scheduled for Saturday, Chinese Foreign Ministry spokesman Liu Jianchao said Tuesday at a regular briefing that he "could not agree to link the exercises with the 'elections'."
Today's Top News
Top China News

Pakistanis may be near bin Laden's aide al-Zawahri




Government relaxes control of airfares, finally




U.S. launches WTO complaint against China




Report: China, Iran sign US$20b gas deal




FM to pay official visit to DPRK




women bosses urged to date and marry