China, EU consolidate partnership
By Shao Zongwei (China Daily)
Updated: 2004-03-16 23:38
China and the European Union (EU) Tuesday pledged to forge ahead their comprehensive strategic partnership via co-operation in various sectors, including joint efforts to fight terrorism.
Both Premier Wen Jiabao and EU Council Secretary-General Javier Solana expressed willingness to develop such a relationship during their talks in Beijing.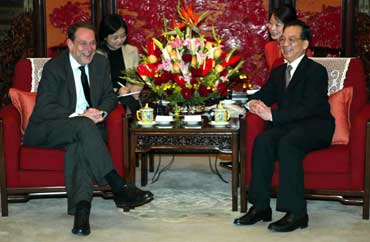 Chinese Premier Wen Jiabao (right) and EU Council Secretary-General Javier Solana meet in Beijing, March 16, 2004. [Xinhua]
Wen noted the two sides share much in common, including their commitment to safeguarding world peace, security and stability, and their belief in the strengthened role of the United Nations (UN) and multilateralism.
Solana, also the representative for the EU Common Foreign and Security Policy, highlighted bilateral political and economic co-operation.
According to a Chinese Foreign Ministry spokesman, Solana promised that the EU will adhere to the one-China policy, adding that the policy will not change in the future.
China and the EU decided to forge a comprehensive strategic partnership last year. As a footnote to what Solana described as a "solid and fluid" relationship, there will be a series of high-level exchanges between China and the EU in 2004. Apart from Solana, European Commission President Romano Prodi and seven commissioners are expected to visit China this year.
Official figures show the trade volume between China and the EU exceeded US$100 billion for the first time last year, another indicator for the growth in bilateral ties.
Solana was in Beijing for a two-day visit, packed with talks with Chinese leaders and senior officials including State Councillor Tang Jiaxuan and Foreign Minister Li Zhaoxing.
Solana also paid a visit to the Secretariat of the Shanghai Co-operation Organization (SCO) Tuesday.
SCO Secretary-General Zhang Deguang told his guests that the organization is willing to launch all forms of exchanges and co-operation with other countries and international organizations, including the EU, to promote regional and world peace and development.
According to a SCO Secretariat spokesman, Zhang briefed Solana on the organization's efforts in recent years to combat terrorism and drug trafficking.
The SCO, grouping China, Russia, Tajikistan, Kyrghyzstan, Kazakhstan and Uzbekistan, lists as one of its main goals the fight against terrorism, separatism and extremism.
Solana, whose visit occurred just days after the bomb blasts in Madrid that killed 200 and injured about 1,500, was quoted as saying the EU will stay in contact with the SCO and explore possibilities for co-operation.
Earlier at a press conference held by Solana and Foreign Minister Li, the former stressed the importance of international co-operation in anti-terrorism efforts, citing measures such as intelligence sharing and co-operation to stop the financing of terrorist groups.
Replying, Li said China opposes all forms of terrorism and stands willing to co-operate with the international community to fight terrorism.
However, he pointed out that there should be no double standards in efforts, nor should they be related with any particular country, people or religion. Li also stressed the role the UN should play in bringing down terrorism.
Today's Top News
Top China News

Pakistanis may be near bin Laden's aide al-Zawahri




Government relaxes control of airfares, finally




U.S. launches WTO complaint against China




Report: China, Iran sign US$20b gas deal




FM to pay official visit to DPRK




women bosses urged to date and marry