China declares victory in bird flu fight
(Agencies/chinadaily.com.cn)
Updated: 2004-03-16 10:51
The Ministry of Agriculture (MOA) on Tuesday declared initial-stage victory in the fight against bird flu, saying all 49 confirmed cases of the disease in the mainland have been stamped out.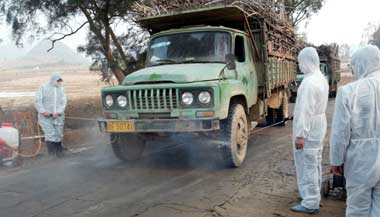 Dingdang Town, Guangxi Province, where China's first confirmed bird flu case was found, is lifted from isolation on Feb. 22, 2004. [newsphoto/file]

The announcement was made at an press conference by Jia Youling, MOA spokesman for MOA's anti-bird flu team.

With the lifting of isolation in the last two infected areas in Nanning, south China's Guangxi Zhuang Autonomous Region, and in Lhasa, capital of southwest China's Tibet Autonomous Region, all the 49 confirmed cases as have been stamped out,said Jia.

"And for the past 29 days in a row, neither new cases nor cases of human infection have been reported," Jia added.

Highly pathogenic avian influenza (HPAI), technical term for bird flu, hit 16 provinces, municipalities, autonomous regions in China from Jan. 27 to March 16, posing a big threat to people's properties and health.

However, Jia said that it was no time to relax precautions, despite all areas in China now being free of isolation.

"We should recognise that the situation is still grave for the disease prevention and control," he said in a press release ahead of a news conference.

"In light of the spreading practice of the animal epidemics we may suffer a relapse ... unless preventative measures are intensified.

"The possibility of bird flu coming again is great and no efforts should be spared in its prevention and control."

The virus has killed 22 people in Vietnam and Thailand.
Today's Top News
Top China News

Pakistanis may be near bin Laden's aide al-Zawahri




Government relaxes control of airfares, finally




U.S. launches WTO complaint against China




Report: China, Iran sign US$20b gas deal




FM to pay official visit to DPRK




women bosses urged to date and marry