College slayings suspect captured
(Xinhua/Chinadaily.com.cn)
Updated: 2004-03-16 08:58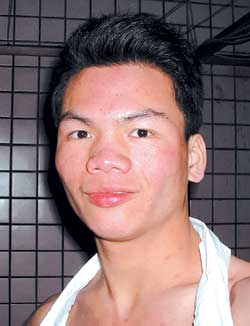 The most wanted suspected killer of four university students in southwest China was captured Monday night in southern China's island province of Hainan, local police announced.
Ma Jiajue, the wanted suspect, was seized in Hexi District of Sanya City at about 7:30 p.m. Monday and he is now being interrogated by local police, a spokesman for the Sanya City Bureau of Public Security said, without saying how he was captured.
The China News Service reported that motor cab driver Chen Xianzhuang spotted Ma near a vegetable market in Sanya and immediately alarmed the police. Police later captured Ma without resistance when he was trying to find something to eat from the dustbin. Chen will get the 200,000 yuan (US$24,300) reward promised by the Ministry of Public Security.
The CNS reported that Ma will be escorted to Kunming where he committed the slayings and will stand trial there.
Ma, 23, was listed as chief suspect by the Chinese Ministry of Public Security in the killings of four students at a university hall of residence in southwest China's Yunnan Province on Feb. 23.
He was born in Binyang County of Guangxi Zhuang Autonomous Region and was a student of biochemistry at Yunnan University.
The Chinese Ministry of Public Security issued an urgent appealfor Ma on March 1 for his connection with the killings.
In the notice, the ministry offered a 200,000 yuan (US$24,300) reward to people providing information or clues leading to his apprehension.
Four university students were found dead in a dormitory in Yunnan University on Feb. 23. All the bodies had injuries consistent with a blunt metal object. They were Yang Kaihong from Yunnan Province, Gong Bo from northwest China's Shaanxi Province, Tang Xueli from Yunnan Province and Shao Ruijie from Guangxi Zhuang Autonomous Region
Ma said he killed them to seek revenge because he had quarrels with them. Ma told police interrogators that they Tang Xueli and others blamed him cheating while playing pokers, but he insisted he did not play any trick.
He told police that he maintained fairly good relations with the four students slain, but he decided to revenge them after he had quarrels with three of them and killed one a day in four consecutive days.


Today's Top News
Top China News

Pakistanis may be near bin Laden's aide al-Zawahri




Government relaxes control of airfares, finally




U.S. launches WTO complaint against China




Report: China, Iran sign US$20b gas deal




FM to pay official visit to DPRK




women bosses urged to date and marry