Spain, Morocco attack links investigated
(Agencies)
Updated: 2004-03-16 08:40
One of the five men arrested in connection with the deadly Madrid train bombings has links to the plotters of an al Qaeda-linked bombing in Casablanca last year, CNN has learned.
The May 2003 suicide attacks in Casablanca killed nearly three dozen people.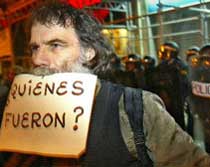 Madrid protester holds sign reading in Spanish, "Who Were They?" [AP]

Spanish authorities have arrested five people in connection with the Madrid bombings: three Moroccans and two Indians.

One of the men, Jamal Zougam, 30, has ties to two brothers who have been charged in connection with the Casablanca bomb plot, according to a Moroccan government official.

Zougam is also believed to be a follower of Imad Eddin Barakat Yarkas, the alleged ringleader of al Qaeda in Spain, according to a Spanish court document.

All five are being held incommunicado under Spain's anti-terrorism law, which requires they be charged within five days of their detention.

Authorities said investigators tracked the men through a cellular telephone and a pre-paid telephone card found in a backpack containing explosives that was found shortly after Thursday's attacks.

CNN also has obtained a document posted on an Internet message board analysts believe is used by al Qaeda and its sympathizers that spells out the terrorist group's plan to separate Spain from the U.S.-led coalition on Iraq.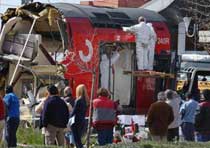 People watch as forensic experts examine the bombed wreckage of a commuter train in the Madrid suburb of El Pozo Monday March 15, 2004. [AP]

The strategy spelled out in the document, posted last December on the Internet, calls for using terrorist attacks to drive Prime Minister Jose Maria Aznar's Partido Popular from power and replace it with the Socialists.

That was expected to drive a wedge between Washington and Madrid and result in the withdrawal of Spanish military forces from Iraq.

"We think the Spanish government will not stand more than two blows, or three at the most, before it will be forced to withdraw because of the public pressure on it," the al Qaeda document says.

"If its forces remain after these blows, the victory of the Socialist Party will be almost guaranteed -- and the withdrawal of Spanish forces will be on its campaign manifesto."

That prediction came to fruition in elections Sunday, with the Socialists unseating the Popular Party three days after near-simultaneous bombings of four trains killed 200 and shocked the nation.

Ninety percent of Spaniards had opposed Aznar's staunch support for the U.S.-led war against Iraq, and some have blamed Aznar's policies for the train bombings.

Prime Minister-elect Jose Luis Rodriguez Zapatero said Monday he wants the 1,300 Spanish troops in Iraq to return home by June 30 if the United Nations "doesn't take control of Iraq."

"I think Spain's participation in the war has been a total error," he said.

Adding to the investigation is a videotape in which a man claiming to be a military spokesman for al Qaeda in Europe says the terrorist network was behind the bombings.

In the United States, Asa Hutchinson, the undersecretary for the Department of Homeland Security, said the Madrid bombings had the fingerprints of al Qaeda.

"We do know that there is a connection to al Qaeda. We have verified that," he told CNN. "At this point, there clearly is some link and we're going to continue to see the depth of that."

However, another administration official would only say Islamic fundamentalists remain high on the list of suspects.

"Things are slightly leaning towards Islamic fundamentalist responsibility, as opposed to pure ETA or al Qaeda," one senior administration official said.

ETA is a Basque separatist group that has been fighting for more than three decades for an independent state. The group is designated a terrorist organization by the United States and the European Union.

The U.S. intelligence community is considering the possibility that the bombings may have been carried out by a number of people with various ties to terrorist groups, the senior administration official said, adding that theories include the following possibilities:
Islamic fundamentalists with support from ETA;
Islamic fundamentalists with close ties to al Qaeda, although not necessarily "card-carrying members of al Qaeda"; or,
Members of ETA or al Qaeda.
U.S. Secretary of State Colin Powell said he was confident Spain would continue to play a significant role in the war on terrorism.
"Terrorism has to be defeated," he said. "I don't think the Spanish people are any more inclined to give any encouragement to terrorists or to give terrorists the slightest impression that they are not going to be engaged fully by the Spanish government -- no matter who is prime minister."
Powell added that he was not sure if the Madrid bombings affected the outcome of Sunday's elections: "But the one thing I'm quite sure of is that Spanish people remain committed in the war against terrorists."
In the wake of the bombings, Spanish Interior Minister Angel Acebes announced Monday that a European Union anti-terrorist conference will be held Friday in Madrid.
Today's Top News
Top World News

China-EU trade to grow in 2004




China to join UN heritage convention




Consumers' interests safeguarded




Taking actions to protect human rights




Ministry probes land abuses




Yuan buying limited to US$10,000 a day