English-only teaching not allowed for kids
(China Daily)
Updated: 2004-03-16 09:07
Shanghai education authority has warned that the practice of some city preschools using only English in classes will not be accepted.
According to an announcement released by the Shanghai Education Commission, local kindergartens are forbidden to teach in English only. And children graduating from such kindergartens will not be allowed to enter local primary schools.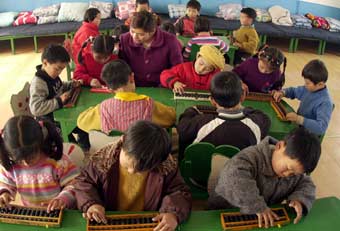 Shanghai Education Commission warns local kindergartens that they are forbidden to teach in English only. [newsphoto]
The announcement, which came after some kindergartens released their latest recruitment advertising saying they would provide a "non-Chinese" environment, stipulates that local preschools have to emphasize Chinese language teaching.
Only certain "qualified" kindergartens will be allowed to offer English courses as part of their extracurricular activities.
"The mother tongue is still the basis for teaching in kindergartens," said He Youhua, vice-director of the commission's elementary education department.
Too much English language training at an early age may even have a negative impact on children's future learning of the language, He said.
He said the lack of professional English teachers and standard teaching materials remained the two major problems for English teaching at local preschools.
English language courses have become increasingly popular among local kindergartens since the middle of the 1990s.
Now, around one-fifth of kindergartens throughout the city have opened English courses and these "bilingual schools" are especially welcomed by parents.
Bao Shuijuan, director of the local division of the Beijing-based Child Development Centre of China -- a government-backed organization undertaking education research -- partly supports "bilingual teaching" in kindergartens. But Bao also said language teaching should be based on children's interests.
"Some kids have a really good gift for languages and teaching them a foreign language at an early age may help them further develop their skills in that area," Bao said.
However, Bao opposes open English courses as a main subject in kindergartens.
Zhang Hong, once an English teacher at Shanghai Nanxi Kindergarten in downtown Jing'an District, said the "proper number" of English courses in kindergartens may help children cultivate their interests in languages, helping them in the future.
Shanghai's highly regarded Nanxi Kindergarten has a 15-minute English session each morning, which mainly involves listening to stories, learning everyday phrases and singing songs.
According Zhang, many children start to grasp the language after only a semester.
"I think such English courses are positive," she said.
Today's Top News
Top China News

Pakistanis may be near bin Laden's aide al-Zawahri




Government relaxes control of airfares, finally




U.S. launches WTO complaint against China




Report: China, Iran sign US$20b gas deal




FM to pay official visit to DPRK




women bosses urged to date and marry