Putin wins easily, getting 70% of vote
(Agencies)
Updated: 2004-03-15 07:52
Russian President Vladimir Putin claimed victory early Monday after easily winning a second term with more than 70 percent of the vote, confirming widespread expectations of a commanding victory. Just minutes after polls closed, a fire gutted an exhibition hall off Red Square, killing two firefighters who helped bring the blaze under control.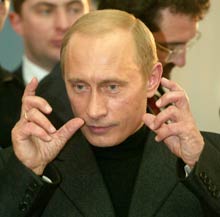 Russian President Vladimir Putin gestures as he speaks to media in Moscow in the early hours of March 15, 2004. Putin swept back into the Kremlin on Sunday with a landslide election win. [Reuters]

Moscow Mayor Yuri Luzhkov said neither terrorism nor arson were suspected as the cause of the fire, which broke out while the building known as the Manezh was unoccupied. By midnight, Luzhkov said the blaze had been localized.

Two firefighters were killed and one injured, having inhaled poisonous fumes while combatting the blaze, said Viktor Beltsov, a spokesman for the Emergency Situations Ministry. The two dead firefighters had been in the building's attic when it collapsed, ITAR-Tass news agency reported, citing city fire department spokesman Yevgeny Bobylev.

It wasn't immediately clear what caused the fire that broke out in the wooden rafters and beams of the roof, Luzhkov said, adding that the ventilation system may have been at fault.

Assured in advance of victory, Putin was looking for a powerful turnout to strengthen his grip over Russia - already tightened by his appointment of a new Cabinet just before the vote and by December parliamentary elections that gave the main pro-Kremlin party full control over lawmaking.

According to preliminary data, 64.27 percent of voters nationwide had cast ballots, electoral officials said.

With 49.7 percent of precincts accounted for, Putin had over 70 percent of the vote, the Central Election Commission said. The partial results were backed up by an exit poll by the non-governmental Public Opinion Foundation, which surveyed 120,000 voters at 1,200 polling stations and concluded Putin had won more than 70 percent.

"I promise you that for the next four years, I will work in the same mode," Putin said.

Putin first thanked voters for turning out, then thanked those who supported him. He promised to ensure further economic growth, strengthen civil institutions and media freedom. "All the democratic achievements will be guaranteed," he said.

Putin, who reined in Russia's independent media following his first election in 2000, dominated the nationwide television networks before the vote. His five challengers received less coverage, adding to the widespread impression that the vote was a one-horse race.

"I voted for Putin because he is going to win anyway, and what is the point in voting for someone else?" said financial inspector Yelena Chebakova, 31, one of a handful of early voters at a Moscow polling station.

Secretary of State Colin Powell said he was concerned with a lack of openness in Russia's presidential election and "a level of authoritarianism creeping back" into Russian society. National Security Adviser Condoleezza Rice also expressed concern.

But Powell said he did not think Russia was reverting to the hard-line ways of the former Soviet Union.

"Russians have to understand that to have full democracy of the kind that the international community will recognize, you've got to let candidates have all access to the media that the president has," Powell said on "Fox News Sunday."

Dmitry Kozak, the head of Putin's campaign headquarters, rejected the criticism, saying that Russia's election campaign was "in strict conformity with the election law."

"Russian voters already have significant experience in democratic elections and don't need suggestions from anyone, even less so from representatives of a country that has clear flaws in its election procedures," Kozak said in a statement released Sunday night by the Kremlin press service.

Putin Monday also dismissed US criticism of a presidential poll that saw him storm to a second term in a landslide reelection. "This is dictated by the internal political situation" in the United States, Putin told reporters in televised comments from his campaign headquarters near the Kremlin.

"No one has a right to think that if they criticize others, they cannot be criticized themselves," he said.

A frenzy of television appeals by Putin, his rivals and even top religious leaders urging people to vote reflected Kremlin concerns that the lack of a challenger with a chance of unseating the president might keep Russians away from the ballot box.

After voting in Moscow on Sunday morning alongside his wife, Lyudmila, Putin made a last-minute plea, saying that "much depends on this election" and that "the feeling of involvement must increase year after year."

The election lasted 22 hours, stretching over 11 time zones, before ending at 8 p.m. in the Baltic Sea exclave of Kaliningrad.

Nadezhda, a kindergarten teacher who gave only her first name, didn't need the encouragement provided by a van that cruised around her Moscow neighborhood with a loudspeaker shouting that voting is the way to "a dignified life and a bright future."

"I always vote - it is my country and my responsibility," she said, adding that she voted for Putin. She said he is "young and energetic" - qualities that many Russians cite for their support of the trim, 51-year-old president, who has also benefited from steady economic growth during his first term.

"We voted for Putin because under him there's been stability in society, in the economy," said Mikhail Antonchik, a young miner who voted with his wife in Cheryomukhovo, a Ural Mountains village. "You can plan for the family."

But about one-fifth of Russia's 144 million people live in poverty and the gap between rich and poor remains wide, stoking anger at the authorities.

Communist challenger Nikolai Kharitonov appealed to the poor and polled more strongly than expected, bringing in 14.3 percent of the vote, according to preliminary results. Some 3.9 percent of voters checked the box marked "against all."

Irina Kozhukhova, a 42-year-old radio factory worker in St. Petersburg, said she'd voted in that category.

"I didn't vote for Putin because I've seen no changes - neither in politics nor in the economy," she said.

Amid calls by some liberals for a boycott of the vote, which came three months after parliamentary elections that international observers called a setback for democracy, rival candidates and rights groups alleged vote-rigging in favor of Putin, including pre-marked ballots and pressure on students and soldiers.

"The authorities are resorting to pressuring the electorate and abusing their powers to manipulate the vote," nationalist candidate Sergei Glazyev told The Associated Press at an election monitoring center he set up jointly with Kharitonov and liberal candidate Irina Khakamada.

Citing monitors, the joint center said that patients at a Moscow psychiatric hospital had complained that the ballots they received were already marked for Putin.

VOICE, a grass-roots election monitoring association, reported that officers at a military base in the Volga River region of Samara received telegrams from the Defense Ministry ordering them to tell their superiors, in writing, the time they and their family members voted. Students at Samara State Aerospace University were threatened with eviction from their dormitory if they didn't vote, VOICE alleged.

Putin did not campaign openly, relying instead on his image as a stable, disciplined leader to appeal to a nation still traumatized by the political and social upheavals that followed the 1991 Soviet collapse.

In addition to Kharitonov, Khakamada and Glazyev, Putin faced Oleg Malyshkin, the little-known candidate from flamboyant nationalist Vladimir Zhirinovsky's party, and Sergei Mironov, the speaker of the upper house of parliament, who has said he was running to support the incumbent. Glazyev polled 4.7 percent and Khakamada 4.6 percent, according to preliminary results.
Today's Top News
Top World News

China will never allow anyone to split Taiwan




Amendments to the Constitution endorsed




Putin wins easily, getting 70% of vote




Premier pledges to push reforms ahead




Kazakh mudslide kills 9 Chinese




Madrid suspect linked to 9/11 figure