S. Korea votes to impeach Roh
(Agencies)
Updated: 2004-03-12 14:06
South Korea's National Assembly has voted overwhelmingly to impeach President Roh Moo-hyun by 193-2, amid dramatic scenes as rival politicians physically battled on the floor of parliament.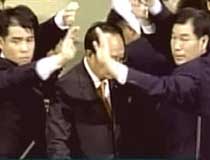 Lawmakers and security personnel protect the speaker as he reads the result of the vote. [AP]

Roh's presidential powers were immediately suspended and Prime Minister Koh Gun will lead until a Constitutional Court decides whether the president should be removed -- a process that could take up to six months.

For the impeachment to be conclusive, six of the court's nine judges will have to back the assembly's decision.

Roh is accused of violating election laws and has apologized for leading the country into a political crisis.
The unprecedented vote prompted dramatic scenes on the floor of the assembly with security guards dragging pro-Roh parliamentarians from the chamber while other supporters shouted and wept.
The South Korean market was quick to react, with shares tumbling more than 5 percent in early afternoon trade on Friday.
The decision to push for an impeachment came after South Korea's National Election Commission ruled that Roh should not have publicly aired his backing of the breakaway Uri Party in April's upcoming parliamentary elections.
Opposition (GNP) lawmaker Park Jin said Friday's decision to impeach was "very much justified," blaming illegal campaigning, financial scandals and an inability to run the country for the success of the vote.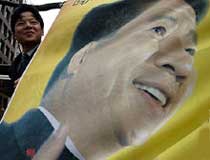 Roh's image has been tarnished with a series of corruption and financial scandals. [AP]

Asked if Roh should now resign, Park said: "We are not forcing him to do so, that is his decision."

On Thursday lawmakers loyal to Roh blocked the National Assembly from voting on the unprecedented impeachment motion by occupying the speaker's podium in the parliament.

The session was then adjourned because speaker Park Kwan-yong could not reach the podium to call the vote.

On Friday, the battle continued with politicians cursing and shoving each other as 20 opposition legislators tried to remove the loyalists.

Commenting on the violence in the assembly, Park said the opposition had tried to avoid physical contact "but we had no other choice but to do so."

"History will judge whether our action today was justified or not," he said.

Roh, who was not in the chamber for the vote, earlier Friday apologized for the unprecedented political crisis.

Roh's image has been tarnished with a series of corruption and financial scandals.

"I deeply apologize to the people for the country being led into this impeachment crisis," Roh said in a statement read by his chief spokesman, Reuters reports.

"I couldn't sleep at all last night."

Roh had earlier refused to apologize for remarks that triggered impeachment proceedings against him on Tuesday.

The South Korean leader has hinted he might step down if his supporting lawmakers fared poorly during the nationwide April poll.

"I will make a political decision according the result of the parliamentary elections," Roh said. "I will use the people's will reflected in the parliamentary elections to judge what I should do."

"The bold decision I will make includes the question of whether I will step down or not."

Roh's image has been tarnished with a series of corruption and financial scandals.

Although he has no political affiliation, Roh has said he plans to join the liberal Uri Party, which has 47 seats in the 273-member National Assembly.

Since taking office in February 2003, Roh's camp has been rocked by a series of corruption scandals.

Several close aides to Roh have come under scrutiny for alleged corruption, while three former aides were last year indicted on charges of collection of illicit funds for last year's presidential campaign.

On Thursday Roh apologized for the corruption, saying, "First of all, I am sorry ... I bow my head and extend my apology."

A nationwide probe has been investigating campaign contributions, and though Roh hasn't been personally implicated, the scandals have battered his reputation as an independent reformer.
Today's Top News
Top World News

Advisory body ends session, passes charter amendments




Top leaders urge military modernization




Double standards of US trade policy exposed




FM: No US advice needed on HK




S. Korea votes to impeach Roh




Terror blasts kill at least 192 in Spain