Broken bodies turn Madrid stations into war zone
(Agencies)
Updated: 2004-03-12 10:29
"I saw a baby torn to bits," said train passenger Ana Maria Mayor, her voice cracking. The blasts that ripped through the heart of Madrid in the morning rush hour on Thursday left pools of blood like in a battlefield.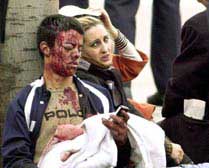 192 were killed and 1400 others injured in the blasts. [AP]

Enrique Sanchez, an ambulance man for 20 years, had never seen anything like it.

"There were all kinds of facial wounds, amputations, broken bones," Sanchez said. "There was blood everywhere, so much blood..."

Sanchez was in a crew that raced to Atocha station to help the wounded on bombed commuter trains that were ripped open like tuna cans.

"It's like a war zone here," said Carmen Perez, a lawyer in her 40s.

"This is so savage you can't even describe it, Madrid is totally paralyzed, it's total chaos, it's horrible," she said, breaking down in tears.

Everyone from street sweepers to fellow commuters lent a hand to the bloodied and the broken.

Passengers wept as they heard or told of bodies in pieces on the tracks.

Sanchez offered help to people worried about friends and relatives inside.

"Just pray," he told one bystander among the many held back by police.

A elderly man, with no visible wounds, seemed to have lost his nerve. Two people had to escort him to a ambulance.

Ambulances came and went, sirens screaming. The worry on the faces of the paramedics seated in front hinted at the condition of their patients.

Azucena Sanchez, part of the cleaning crew in the station, said she heard three separate explosions a few minutes apart. After that came desperation.

Santiago Feia Perez, an emergency doctor, told Portuguese radio station TSF: "There was a lot of screaming, bleeding wounded. The trains were all destroyed, with headless corpses."
Today's Top News
Top World News

Top leaders urge military modernization




Double standards of US trade policy exposed




FM: No US advice needed on HK




Terror blasts kill at least 192 in Spain




Regulators keep sharp eyes on pilot banks




Campaign on corruption focus of sessions