US House bans fast-food lawsuits
(Agencies)
Updated: 2004-03-11 09:58
The U.S. House of Representatives overwhelmingly approved a bill Wednesday to ban lawsuits by obese customers who say they became overweight by eating at fast-food restaurants.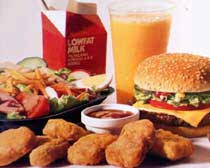 A lawsuit that accused McDonald's food of contributing to young customers' obesity was dismissed last year.

The bill, which passed 276 to 139, is one part of a broader Republican push to reform the nation's civil liability laws by banning what many consider to be "frivolous" lawsuits.

"Trial lawyers have targeted the fast-food industry as the next big tobacco by bringing these insane lawsuits," said the bill's author, Rep. Ric Keller, R-Florida, referring to cigarette smokers' litigation against tobacco companies.

"We've got to get back to those old-fashioned principles of personal responsibility, of common sense, and get away from this new culture where everybody plays the victim and blames other people for their problems."

Many Democrats opposed the bill, as they did a similar liability waiver the House passed for gun manufacturers last year.

"The courts are handling the cases as they should -- if they're frivolous, they're thrown out," said Rep. Bobby Scott, a Virginia Democrat who opposes the legislation.

"That's what everyone else has to go through, and I'm not sure why there's any special case to be made for this industry to have their cases tried in the United States Congress rather than the court."

The National Restaurant Association said the bill is its top priority this year. While only one such lawsuit has been filed -- a case involving New York children against McDonald's that was dismissed -- the industry said it is facing higher insurance costs because of the potential liability.

"It's a significant issue simply by the impact it could have on the entire industry if one of these suits were to be successful," said association spokesman Brendan Flanagan.

Some Democrats said they are concerned the bill will make a major sector of the economy exempt from negligence.

"There's no justification for that," a Democratic Judiciary Committee aide said. "These are not poor struggling businesses who can't defend themselves against unfounded legal claims."

Approval of the bill comes at the same time McDonald's and other restaurants are facing pressure to stop offering bargain "super-size" meals. Last week, McDonald's announced it would eliminate the super-size choice, citing the need to simplify its menu.

"It's hard to believe that trial lawyers want to make the claim that 'Ronald McDonald made me do it,' " House Majority Leader Tom DeLay, R-Texas, said about the issue. "The point of this debate [is] all about personal responsibility. If you eat too much, you will gain weight."

Companion legislation is pending in the Senate, but a leadership aide couldn't say when or if it will be taken up.
Today's Top News
Top World News

Hu: Balance population, resources, environment




Six ministerial officials punished




Beijing denies reports on large-scale evictions




Chen's bid for 'referendum' provocative




HK trims civil service to rein in budget




Nuclear reactor put into operation