Vicious hockey attack spurs rage, worry in Canada
(Agencies)
Updated: 2004-03-11 09:10
A vicious on-ice punch knocked scandal, politics and foreign affairs off the front pages of Canadian newspapers on Wednesday, tarnishing the iconic status of Canada's national pastime and prompting a debate on how far violence in hockey should be allowed to go.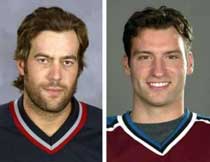 Vancouver Canucks winger Todd Bertuzzi (L) was suspended indefinitely without pay by the NHL on March 9, 2004 for deliberately injuring Steve Moore (R) of the Colorado Avalanche. Midway through the third period of Monday's game, Bertuzzi skated up behind Moore and struck the Colorado forward in the head, sending him crashing to the ice in a pool of blood. [Reuters]

The punch, a revenge attack by a star Vancouver Canucks player for an incident at a game last month, left a rookie Colorado Avalanche player with a concussion and a fractured neck, and prompted banner headlines, grumbling Web sites and endless televised reruns of the ugly attack.

"Canada's troubled game suffers yet another blow," the Globe and Mail said in a commentary that, with pictures and a sidebar story, took up almost all the front page.

"It's really a dark moment for hockey." said the Toronto Star, Canada's biggest-selling newspaper, which called for an end to hockey's culture of violence.

Brawls in hockey games have almost become an integral part of the sport. They are so popular that a Manitoba impresario is promoting a fights-only event, with a promised prize of $100,000 to the best pummeler in a two-minute on-ice match.

The first fight is scheduled for August in Minnesota and tickets go on sale next month.

But Monday night's punch by the Canucks' Todd Bertuzzi went far beyond the average hockey brawl, and Vancouver police are investigating his attack on Colorado's Steve Moore.

"We have an obligation once a complaint is received to conduct an investigation into an incident of this nature," police said on Tuesday. "Regardless of the fact that this involves players in the National Hockey League, this will be a routine assault investigation."

Bertuzzi punched Moore from behind, and then smashed his head to the ice, leaving him lying in a pool of blood. Bertuzzi faces disciplinary action from the National Hockey League, and could be suspended or banned from the league.

Moore had been targeted by Vancouver throughout the game after a incident last month in which he injured Bertuzzi's teammate, Markus Naslund, with a hit to the head.

IS IT A GAME?

But the real question in Canada is whether violence in hockey has become too big a part of the game, and whether it's time for a major crackdown, including assault charges against Bertuzzi.

CBC radio pointed out that an angry worker who punched a colleague in the head, fracturing his neck, would face criminal action, and not just a workplace disciplinary hearing.

An editorial in the National Post said it should be up to the National Hockey League to police incidents on the ice, but it urged the NHL to "send the strongest possible message."

The Toronto Star invited readers to e-mail their thoughts and printed a selection of some 50 views on its Web site. It also rolled out Canadian hockey icon Wayne Gretzky for his final verdict on the matter.

"I'm sure they're going to take the right disciplinary actions to what happened and send a message that we don't want it to happen again," said the retired Gretzky, considered by many to be the greatest player the game has ever seen.
Today's Top News
Top World News

Beijing denies reports on large-scale evictions




Hu: Balance population and resources




Six ministerial officials punished




Chen's bid for 'referendum' provocative




HK trims civil service to rein in budget




Nuclear reactor put into operation