Six ministerial officials punished
(Xinhua)
Updated: 2004-03-10 17:01
Six former ministerial-level officials were sentenced on charges of job-related crimes last year, China's chief justice Xiao Yang said Wednesday, pledging intensified efforts to continue cracking down on corrupt officials according to law.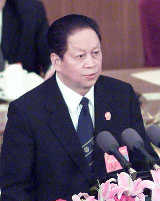 Chief justice Xiao Yang of the Supreme People's Court delivers a report on the work of people's courts at the NPC session on March 10 in the Great Hall of the People in Beijing. [newsphoto]
The six former high-ranking officials included three provincial governors or deputy governors, one president of provincial higher court, a vice chairman of a provincial committee of the Chinese People's Political Consultative Conference (CPPCC), and the former president of the China Construction Bank.
The penalties on them range from death sentence with a reprieve, life imprisonment, to 12 and 15 years behind bars, according to previous reports.
They were among of a group of 458 government workers sentenced on the same charges, said Xiao, president of the Supreme People's Court.
The courts of the country handled a total of 22,986 cases involving government workers' job-related crimes last year, he said in his report on the Supreme Court's work at the annual session of the National People's Congress, the Chinese version of parliament.
The fight against corruption was intensified this year. In the latest case last month, former deputy governor of Anhui Province Wang Huaizhong was executed for accepting more than five million yuan of bribery and another 4.8 million yuan of assets which he could not offer legal claim.
Within the ruling Communist Party of China (CPC), six former ministerial-level officials were also punished by the CPC Central Commission for Discipline Inspection. What awaits them is punishment according to law.
Procurator-General Jia Chunwang said in his report to the parliament that 39,562 job-related cases were prosecuted last year, involving 43,490 suspects, and 4.3 billion yuan of economic losses were recovered.
The procuratorial organ "is determined to strike hard against corruption in law-enforcement and judicial areas," said Jia, adding that last year 9,720 law-enforcement and judicial workers were investigated as suspects who took bribes and bent the law to serve friends or relatives.
Last year, said Xiao, Chinese courts at all levels concluded investigation into 5,687,905 cases which involved a sum of 768.5 billion yuan, up 0.78 percent and 8.33 percent, respectively, from the previous year.
Of the total, 735,535 criminal cases were handled and 933,967 criminals were sentenced, a rise of 1.21 percent and 1.51 percent respectively.
Corruption remains a top concern for many Chinese. Xinhuanet. com, China's largest news website, found in an on-line investigation that anti-corruption is the number one concern for respondents.
China's leadership has been aware of the situation. Premier Wen Jiabao acknowledged in his government work report to the parliament that "it would be an arduous task for the government to rectify itself and fight corruption."
"Corruption still remains a major problem and the seedbed and conditions apt to lead to corruption still exist in China," said Hu Jintao, general secretary of the CPC Central Committee at meeting of the CPC discipline watchdog in February last year.
"The anti-corruption situation in the country still remains grave and the fight against corruption still remains an arduous task," said Hu, who also serves as state president.
Official statistics show that from 1992 to 1997, a total of 669, 300 CPC members were punished for corruption, and the number rose to 846,150 in 1998-2002, a hefty increase of 26.4 percent.
The CPC published its first ever internal supervision regulations earlier this year to intensify the anti-graft campaign. The 47-article, 10,000-word Regulations of Internal Supervision of the Communist Party of China (Trial) put all the 68 million Party members under public supervision.
"The promulgation of the regulations means the Party has decided to base its anti-corruption efforts on stringent disciplinary rules rather than the political will of leaders," said Li Yongzhong, a research fellow for the CPC Central Commission for Discipline Inspection who participated in the 13- year drafting process.
Legislators and members of the CPPCC National Committee, usually critical of the reports by the Supreme Court and Supreme Procuratorate, agreed that China still has a long way to go in the fight against corruption.
"The fight (against corruption) has been intensified over the years and corruption has been checked to some extent," said Zuo Lianbi, member of the CPPCC National Committee and an official with the CPC Central Commission for Discipline Inspection. "But it is equally undeniable that the anti-corruption situation is still quite grave in some places and sectors."
Today's Top News
Top China News

Pakistanis may be near bin Laden's aide al-Zawahri




Government relaxes control of airfares, finally




U.S. launches WTO complaint against China




Report: China, Iran sign US$20b gas deal




FM to pay official visit to DPRK




women bosses urged to date and marry