Experts warn of hasty nuke plans
By Zhu Boru (China Business Weekly)
Updated: 2004-03-10 15:19
Experts warn that power shortages should not be the excuse for the hasty launching of new nuclear power projects, as the nation decides to speed up the development of its nuclear power sector in order to meet increased demand.
"The decision indicates a fundamental change in the country's development strategy of its nuclear power industry," Han Wenke, vice-director of the Energy Research Institute of the National Development and Reform Commission (NDRC), told China Business Weekly last week.
In Januray, the NDRC announced, in a long-term development plan, that the country's installation capacity of nuclear power plants is expected to reach 36 million kilowatt hours in 2020. The current figure is 8.7 million kilowatt hours.
Experts estimate that will account for 4 to 5 per cent of the country's total power installation capacity by then, whereas the current proportion is 1.3 per cent.
It is the first time that China has set a clear-cut goal for its nuclear power industry, said Han.
The government has preferred moderate development strategies for the nuclear power industry, although China became a nuclear power as early as in the 1960s.
Expansion work on existing nuclear power plants in the country's most power-hungry provinces - East China's Zhejiang, Jiangsu and Fujian - is expected to start in 2005 or 2006. These plants will have a total generating capacity of 13 million kilowatt hours by 2010.
The country's severe power shortage has forced the government to revise its nuclear power policies, according to Han.
China will face a shortfall of more than 20 million kilowatt hours in electricity supply this year, Chai Songyue, chairman of the State Electricity Regulatory Commission, was quoted as saying.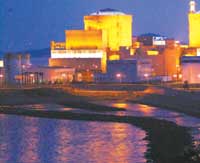 According to the China Electricity Industry Association, the nation's power generation capacity will grow by 9 per cent this year, while electricity consumption will increase by 12 per cent, reaching 2.09 trillion kilowatt hours this year.
China's fast-growing economy began to suffer from severe power shortages last year, when some 22 provinces, autonomous regions and municipalities had to cut off electricity at peak times.
But the NDRC nuclear power policy is a long-term strategy, and provincial governments striving to get approval to launch nuclear power plants should be aware the aid is too slow in coming to solve the problem, warned Han.
It usually takes four to five years to complete the construction of a nuclear power plant before it starts operation. Moreover, at least two years has to be spent on the feasibility studies, Han explained.
As a result, hydraulic power and thermal power will continue to be major contributors to China's power supply in the coming years, he said.
Central China's Hubei and Hunan provinces, and Southwest China's Sichuan Province and Chongqing Municipality, have either reportedly presented their proposals to the NDRC or or decided on the location of nuclear power plants.
No nuclear power plants have been built in China's inland provinces to date.
Taking a long-term perspective, nuclear power is the proper approach to dealing with power shortages and rationalizing the structure of energy consumption, Pan Ziqiang, an academician of the Chinese Academy of Engineering, said.
China still relies heavily on thermal power, which accounts for 70 per cent of the total electricity generation each year, but its coal reserves will run out in the coming decades. Meanwhile, China has become a net importer of oil since 1993, he said.
The excessive dependence on imports and limited reserves leaves the country in a precarious position in terms of energy consumption, suggests Pan.
Many developed countries survived the global energy crisis in the 1970s by developing nuclear power and thus became less dependent on declining coal and oil reserves, he said.
Currently, the total investment in a nuclear power plant is double that of a thermal power plant, leading to higher electricity prices, said Han.
But the price of nuclear electricity is expected to lower gradually as the industry develops into a mass-scaled economy with lower costs, he said.
However, the price of thermal power will rise because the process to get rid of sulphur from coal increases the cost of coal.
Sulphur causes air pollution when coal is burned and processing is increasingly required to ensure environmental protection.
Moreover, China has advanced nuclear technologies that can secure the operation of nuclear power plants and in particular, the processing of nuclear waste, Han added.
However, Han cautioned against overoptimistic views of the sector's development.
China is not rich in nuclear resources, and the trade volume of nuclear resources, which is strictly in line with international rules, is quite limited due to security concerns, he said.
Meanwhile, it will be quite dangerous for China, with its enormous power demand, to rely heavily on nuclear power, Han said.
China's total electricity generation capacity, currently 350 million kilowatts, is expected to reach 800 million to 900 million kilowatts by 2020, according to official statistics.
The United States has not built new nuclear power plants for many years, as the country's more-than-100 plants could be threats to its national security if they are targets of military attacks, he said.
For inland provinces with relatively rich natural resources, it would currently be more economical to use thermal or hydraulic power, he suggests.
China's existing nuclear power plants are all located in East and South China's coastal areas, areas with a more developed economy, but lacking in natural resources.
Today's Top News
Top China News

Pakistanis may be near bin Laden's aide al-Zawahri




Government relaxes control of airfares, finally




U.S. launches WTO complaint against China




Report: China, Iran sign US$20b gas deal




FM to pay official visit to DPRK




women bosses urged to date and marry