Former UN official tapped as Haiti PM
(Agencies)
Updated: 2004-03-10 11:22
Haiti's U.S.-backed advisory council picked a former foreign minister as the new prime minister on Tuesday, a step toward forming a transitional government in this troubled nation.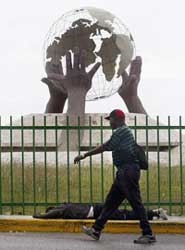 A pedestrian walks past the body of a Haitian man lying on the side of the road for several hours below the Three Hands monument outside an Industrial Park near the airport in Port-au-Prince, Haiti Tuesday, March 9, 2004. Eyewitnesses to the shooting claim the man was shot by local police. [AP]

Gerard Latortue's appointment came as U.S. Marines said they would help Haitian police disarm the general population. The new program, set to begin later this week, will appeal to rebel groups and supporters of ousted President Jean-Bertrand Aristide who have demanded weapons be taken away from their enemies.

Efforts to bring calm to this troubled Caribbean nation followed a bloody insurgency that ousted Aristide on Feb. 29, put rebels in control of half the country and sparked a frenzy of looting and violence. At least 130 people were killed in the rebellion; reprisal killings since Aristide's ouster have left at least 300 dead.

Unrest hit the capital again Tuesday as Aristide loyalists set up flaming barricades and stoned cars. There were no immediate reports of serious injury.

After five days of private meetings, the seven-member Council of Sages settled on Latortue, also a former U.N. official and an international business consultant.

Now Latortue and interim President Boniface Alexandre will try to work toward organizing elections and building a new government for Haiti.

Council member Dr. Ariel Henry said Latortue was chosen because the council believed he was "an independent guy, a democrat." Councilor Anne-Marie Issa described him as someone "to pull everybody together."

Latortue, who served as foreign minister in 1988, was in Miami, but was expected to fly to Haiti as soon as Wednesday, council members said. If he accepts the job, Latortue would replace Prime Minister Yvon Neptune.

Neptune stayed in his post even after Aristide fled the country Feb. 29. Aristide opponents have demanded that Neptune be replaced.

Also Tuesday, CIA Director George J. Tenet warned that in Haiti, "a humanitarian disaster or mass migration remains possible."

"A cycle of clashes and revenge killings could easily be set off, given the large number of angry, well-armed people on both sides," he told the Senate Armed Services Committee. "Improving security will require the difficult task of disarming armed groups and augmenting and retraining a national security force."

Aristide, meanwhile, has insisted from exile in Africa that he is still president of Haiti, saying he was removed from office by the U.S. government.

State Department officials have denied those claims. But the 53-nation African Union and the 15-nation Caribbean Community have said they are investigating.

Ira Kurzban, a Miami-based lawyer for Aristide, told The Associated Press that he has called on U.S. Secretary of State Colin Powell to investigate.

"The kidnapping by the U.S. was part of a coup d'etat," Kurzban claimed.

In an interview Monday with National Public Radio, Powell again denied that Washington forced out Aristide, saying U.S. troops saved his life.

Aristide "contacted our ambassador," Powell said, "and our ambassador made appropriate arrangements so that he could leave safely, which many people said we should make sure would happen ¡ª that nothing would happen to him. And he left of his own free will."

Earlier, at a news conference in Port-au-Prince, Col. Charles Gurganus said the joint disarmament program would begin Wednesday. He also called on Haitians to tell peacekeepers who has weapons and to turn in any arms.

"The disarmament will be both active and reactive, but I'm not going to say any more about that," he said, giving few details of how the program will work.

Since the U.S. and French-led peacekeepers arrived a week ago, there has been confusion over who is in charge of disarming groups. On Monday, Gurganus said disarming rebels was not part of the peacekeepers' mission, but he indicated that could change if police asked for help.

Both Aristide loyalists and opponents have threatened violence if weapons aren't taken away from their enemies. U.S. forces in Haiti, about 1,600 strong, have a limited set of circumstances during which they can use deadly force. They cannot stop looting, even of American companies. Nor can they stop Haitian-on-Haitian violence, officials said.

Their mission is to protect key sites, like government buildings and the airport, to pave the way for an eventual U.N. peacekeeping force.

Yet they find themselves getting dragged into policing the troubled nation, which is deeply divided among various rebel groups and militant Aristide supporters.

U.S. Marines started arriving Feb. 29, the day Aristide left. There are also 800 French Legionnaires and police, 130 Chilean troops and 70 Canadians as of Tuesday.

In the worst violence since Aristide left, gunmen opened fire on anti-Aristide protesters Sunday, killing six people and wounding more than 30. U.S. Marines said they killed one gunman.

Late Monday, Marines shot and killed the driver of a car speeding toward a checkpoint. A passenger was wounded.

In Washington, the U.S. Defense Department defended the Marines, saying they acted within their orders to fire when they felt threatened.

Hijackings and robberies have been common at roadblocks since Haiti's uprising began. Motorists ¡ª including journalists ¡ª often speed through checkpoints to avoid attacks by pro-Aristide militants and rebels.

Aristide was a wildly popular slum priest, elected on promises to champion the poor who make up the vast majority of Haiti's 8 million people. But he has lost support, with Haitians saying he failed to improve their lives, condoned corruption and used police and armed supporters to attack political opponents.

Supreme Court Chief Justice Boniface Alexandre was installed officially Monday as interim president. He made a plea for calm.

U.N. Secretary-General Kofi Annan said Tuesday that he hopes the international community will have the patience and stamina necessary to commit to Haiti "for the long haul."

"It's going to take time, it's going to take lots of hard work," he told the Canadian Broadcasting Corp. "And we should not expect to do a Band-Aid job for two years or so, and then turn around and leave, only to have to return."
Today's Top News
Top World News

China to scrap oldest tax on farmers' crops




Envoy delivers President Hu's letter to Bush




Social security fund to be kept safe




US criticism on human rights unreasonable




Soccer player wins 2.63m yuan compensation




Putin names new Russian FM