Soccer player wins 2.63m yuan compensation
By Di Feng (China Daily)
Updated: 2004-03-10 10:13
A four-year-long dispute between two former soccer players in Liaoning seems to be settled after the judgement of first instance was made on Monday in Shenyang, the provincial capital.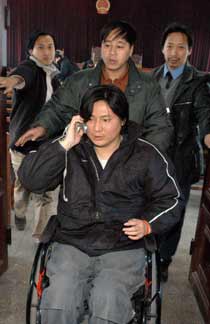 Former soccer player Qu Leheng, who is no longer able to walk, leaves the courthouse after winning his case. [newsphoto]

The ruling by the Dongling District People's Court of Shenyang has asked defendant Zhang Yuning, who now plays for Shanghai Shenhua soccer club, to pay plaintiff Qu Leheng 2.63 million yuan (US$316,860) in compensation, according to a report of the Beijing News.

The amount includes the 100,000 yuan (US$12,000) Zhang paid to Qu last year, which is supporting Qu's current treatment in the Beijing Rehabilitation Hospital.

The dispute emerged nearly four years ago when Qu was announced as a paraplegic after a traffic accident in April 2000, in which Zhang was driving and Qu was the passenger. In that accident, Zhang was slightly injured while Qu has been wheelchair-bound since then.

Dongling traffic authorities judged that Zhang took full responsibility for the accident and Qu was a victim in the mishap. Since then, the two sides began their lawsuits on the issue of compensation.

The plaintiff's family stated that it was Zhang's actions that led to Qu's current physical state, and that Zhang shoulder all expenses for the rest of Qu's life.

The Qu family had asked for a total compensation of 5.74 million yuan (US$691,560) to cover Qu's life spendings for the next 50 years, to make up for loss of income owing to his disability and mental damages.

Monday's judgement was finally made after the court's several attempts at mediation failed.

According to the decision, compensation was listed at 13 items, including expenses for medicine, transportation, lost wages and other assorted costs.

Among the 13 items, mental damages came out as the largest portion with a compensation of 700,000 yuan (US$84,330), the largest sum of its kind in a tort case in the country. Legal experts said the decision would set a judicial precedent for future similar cases.

The two sides adopted cautious attitudes towards the decision on Monday, saying they would decide whether to appeal after consultations with their respective lawyers and parties.

But Qu seemed to feel vindicated, though the amount of compensation was far from what he had hoped for.

If Zhang does not appeal within 15 days, Qu will get the compensation within 10 days after the effective date of the judgement.
Today's Top News
Top China News

Pakistanis may be near bin Laden's aide al-Zawahri




Government relaxes control of airfares, finally




U.S. launches WTO complaint against China




Report: China, Iran sign US$20b gas deal




FM to pay official visit to DPRK




women bosses urged to date and marry