New trade law to fit WTO rules
By Xu Binglan (China Daily)
Updated: 2004-03-09 11:24
China's two-year-long review of its laws related to foreign trade is expected to culminate this year with the passage of the revised Foreign Trade Law, which is currently under deliberation by the Standing Committee of the National People's Congress (NPC), the legislature.
"I believe it will be passed soon. Maybe as early as April," said Zhang Yuqing, who just retired from his post as director-general of the Ministry of Commerce's law and treaty department.
Zhang led China's efforts in reviewing its laws related to foreign trade after the country joined the World Trade Organization (WTO) in late 2001.
One of the reasons for the review was to make China's legal system consistent with its WTO commitment.
Under the commitment, China should allow all enterprises in China to conduct foreign trade business within three years of China obtaining WTO membership that is, by December 11 this year.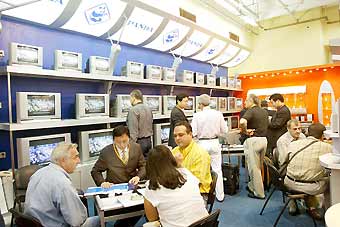 Foreign businessmen hold talks with their Chinese peers at the stand set up by the Nanjing Panda Electronics Co in East China's Jiangsu Province during the 94th China Exports Commodities Fair.[newsphoto]

So the amended law has to be passed before that date, according to Shen Sibao, a business law professor of the University of International Business and Economics (UIBE).

The standing committee of the NPC started to go over the law at the end of last year.

At the beginning of this year, a draft was distributed to local governments, major enterprises and trade and industrial associations for comments.

Comments from different departments, experts and enterprises had already been invited during the writing of the draft, so major differences in opinions had already been resolved before the NPC deliberations begun.

"So major changes are very unlikely at this point," said Shen. A team from Zhang's ministry spearheaded the task force drafting the law and Shen is a member of the task force's advisory body.

Essential difference

The revised foreign trade law covers a wider range the new law has 76 clauses as compared to the 37 of the old one.

What is more important is that the revision has a different spirit.

When explaining the revision to the NPC, Vice-Minister of Commerce Yu Guangzhou said, "The main aim of the revision is to implement our WTO commitments and to promote the healthy development of foreign trade according to WTO rules."

The old law, promulgated 10 years ago, was intended to address the administrative needs of the booming foreign trade business. So that law is mainly about giving the government the legal tools required to supervise and manage the foreign trade sector.

"You can say that it (the old law) does not put sufficient emphasis on protecting normal foreign trade and protecting domestic industry," Shen said.

So the revised law is about making changes according to WTO rules, and also promoting China's development in trade and safeguarding the economy of the country, Shen said.

However, with rising protectionism worldwide, a mere mentioning of protection by a country could make its trading partners frown.

"They should not," Zhang said.

"We actually learned from more developed economies about introducing protective elements," said Zhang. "This is really what we should have done earlier."

"Furthermore, this is not in any way against WTO rules."

The revised law has clauses about investigation of unfair practices, it also has clauses on protecting intellectual property rights in trade. Both are common in many countries' business law, said Shao Jingchun, a law professor with Beijing University.

Whenever there is a trade dispute, many foreign countries cite their law allowing them to conduct investigations and take punitive measures if they feel the result of the investigation justifies such a measure, but China does not presently have this legitimate weapon, he said.

"This is unreasonable," he added.

1.3 billion traders?

A clause of the law that will be sure to catch attention is the one permitting individuals to conduct foreign trade.

Foreign individuals are already allowed to do foreign trade in China. But for Chinese themselves, the right to engage in foreign trade is limited to companies, which must be changed to meet China's WTO commitments.

Many NPC delegates are worried about the prospects of a flood of private individuals doing foreign trade, which could create a chaotic situation.

But Zhang said that is not likely.

"Will the 1.3 billion Chinese all start to engage in foreign trade? I do not think so," he said.

There may still be a need some kind of registration system although requirements for doing foreign business will be greatly lowered and the registration system will be much easier for traders than the old licensing system, he said.

Shen said the country's current foreign exchange administration system will also block many from starting foreign trade business easily.

Although the renminbi is convertible for trade purposes, borrowers still need official approval for hard currency loans.

"So it by no means means that everybody can get involved," Shen said.

Unfinished agenda

The amended Foreign Trade Law is almost twice as long as the old one.

But still most of its clauses are just general principles, Shen said.

"Business law is rooted in a country's experiences in economic activities, but our experience in both foreign trade and law-making is still rather limited," he said.

Regulations and rules are still needed to provide detailed stipulations on specific issues, such as how private individuals in foreign trade sign contracts with foreign counterparts and how they obtain export tax rebates, said Zhang Hanlin, a trade professor at UIBE.

But the revised law will definitely provide a good framework. Amendments of details can be made as the country gains more experience, Shen said.

Shen said the promulgation of the amended trade law will assist China greatly in the review of its commercial laws under its WTO commitments.

And the review process will continue.

Business laws are interrelated to each other. Many laws, such as the Arbitration Law, Securities Law, Corporation Law and Bankruptcy Law, are not mainly about trade but they are still related to trade.

"Many of these laws may also need to be revised to make the entire business law system consistent with China's WTO commitments," Shen said.

These laws may need to be revised even if the WTO factor is not taken into account the country's maturing market economy will demand changes to these laws, Shen said.