Iraqi politicians sign interim constitution
(Agencies)
Updated: 2004-03-09 10:49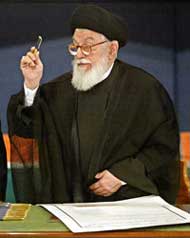 Mohammed Bahr al-Uloum, president of the 25-member Council, shows the pen after signing the Iraqi interim constitution in Baghdad on March 8. [Reuters]

Iraq's Governing Council signed a landmark interim constitution Monday, a key step in plans to hand power to the Iraqis by July 1. But within hours, Iraq's top Shiite cleric issued a fatwa religious ruling criticizing the document, signaling that a dispute that delayed the signing was not over.

Before an audience of prominent Iraqi and American civilian and military officials ! including top U.S. administrator L. Paul Bremer ! 21 of the 25 council members signed the document on an antique desk once owned by King Faisal I, Iraq's first monarch. Representatives of the absent four signed on their behalf.

Council president Mohammed Bahr al-Ulloum called the signing a "historic moment, decisive in the history of Iraq."

"There is no doubt that this document will strengthen Iraqi unity in a way never seen before," said Massoud Barzani, a Kurdish leader on the council. "This is the first time that we Kurds feel that we are citizens of Iraq."

The charter, which includes a 13-article bill of rights, enshrines Islam as one of the bases of law and outlines the shape of a parliament and presidency as well as a federal structure for the country. Billed as the most liberal in the Arab world, it will remain in effect until the permanent constitution is approved in late 2005.

The White House issued a statement congratulating the Governing Council, and Secretary of State Colin Powell, addressing a gathering in Washington for International Women's Day, also praised the Iraqi people for the interim constitution.

"Read what it says about democracy, rights, liberty and what the new Iraq will look like," he said. "Read what it says, and you will see the vision the Iraqi people have for themselves. And let there be no doubt in anyone's minds that it is a bright future."

Powell added that the road ahead may be difficult "but it won't be as difficult as the road that was behind."

The ceremony was rife with symbols of unity, after council members patched over splits that erupted three days ago. The dispute ! focused on two clauses ! derailed an attempt to sign on Friday and fueled bitterness among Sunni and Kurdish members, who feared Shiite leaders were trying to grab more power.

Despite the signing, several Shiite council members said the disputed clauses will be subject to further negotiations and perhaps amended in a later document.

Cleric withholds support

Grand Ayatollah Ali al-Husseini al-Sistani issued a fatwa on his Web site that said the document "will not gain legitimacy except after it is endorsed by an elected national assembly."

Al-Sistani also made clear his reservations about the charter.

"This law places obstacles in the path of reaching a permanent constitution for the country that maintains its unity, the rights of its sons of all sects and ethnic backgrounds," he said.

The ayatollah ! whose word holds strong influence among Iraq's Shiite majority ! did not denounce the charter or call on his followers to reject it. But the fatwa adds weight to demands by Shiites on the council for amendments.

Also, council member Ibrahim al-Jaafari read a statement signed by 12 of the 13 Shiite council members, saying they had agreed to sign the interim constitution without demanding changes in order to safeguard national unity ! but that they want their concerns dealt with.

"We say here our decision to sign the document is pegged to reservations," al-Jaafari said. "In reality we had a choice between delaying the constitution or dealing with our reservations, particularly on two clauses, in an annex."

They said the clauses might be amended in an addendum to the interim constitution that is expected to be issued next month or in May to decide the shape and functions of an interim government that will take over from the U.S.-led coalition on June 30.

"We cannot allow an unelected body, like the Governing Council, to bind an elected body," said Shiite member Ahmad Chalabi.

One clause in dispute, according to al-Jaafari, would give Kurds veto power over a permanent constitution expected to be drafted and put to a referendum next year. The other one bars any changes to the document signed Monday except with the approval of a proposed president, his two deputies, and three-fourths of a parliament to be elected by January 2005.

Monday's one-hour signing ceremony came nine days after a deadline set in a U.S. timetable. The delay was caused by a mourning period following last week's bombings at Shiite shrines, as well as political wrangling on the U.S.-picked council.

About an hour before the signing ceremony began, insurgents fired mortar shells at two police stations in central Baghdad, injuring four people, including one policeman, Iraqi officials said.

New government still must be created

Iraqi and U.S. officials still must agree on a method to create the government that will take power on June 30 and serve until national elections due by Jan. 31 ! a task that will likely need help from the United Nations. Expanding the Governing Council to include groups and parties not currently represented is one option, but a selection process must first be agreed.

Meanwhile, the council must deal with the fallout from the Shiite demands.

On Friday, a number of Shiites on the council refused to sign the document, citing al-Sistani's opposition. During talks over the weekend, al-Sistani signaled to the Shiites that they could sign despite his reservations.

Al-Sistani objected to the clause in the draft that gave Iraq's Kurdish and Sunni Arab minorities the power to veto a permanent constitution even if the Shiite majority approved it in next year's referendum.

It stipulates that if two-thirds of voters in any three of Iraq's 18 provinces reject it, then the document cannot be adopted, parliament is dissolved and a general election is held to choose another assembly.

The Kurds, who control Iraq's three northern provinces, wanted the clause to ensure that no charter could be passed that encroaches on their self-rule in the north. Sunni Arabs also felt the clause was a useful safeguard.
Today's Top News
Top World News

Social security fund secured off capital market




US criticism on human rights unreasonable




China to scrap oldest tax on farmers' crops




Officials to be rated on pollution control




Sand storm turns the sky yellow




When nationals grow bigger and fatter