Iraq Council signs interim constitution
(Agencies)
Updated: 2004-03-09 08:46
Iraq's Governing Council signed an interim constitution on Monday in a key step toward the June 30 launch of a sovereign government but the country's top Shi'ite cleric refused to endorse it.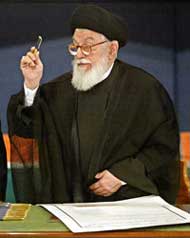 Mohammed Bahr al-Uloum, president of the 25-member Council, shows the pen after signing the Iraqi interim constitution in Baghdad on March 8. [Reuters]

Ayatollah Ali al-Sistani, who wields immense influence over the country's 60 percent Shi'ite majority, said in a statement the interim charter would make it harder for Iraq to agree on a permanent constitution, a crucial foundation for democracy.

Sistani's objections, which followed weeks of wrangling about the wording of the document, had forced an earlier planned signing ceremony to be abandoned last Friday when five Shi'ite council members backed out.

After talks over the weekend with Sistani and other clerics in the holy city of Najaf they went ahead with the signing on Monday.

The Shi'ite politicians said Sistani gave them the go-ahead to sign despite his objections because he did not want to seem to be blocking progress. But the cleric's misgivings will make it harder for Iraq's occupiers to win backing for their plans.

Blasts rang out across Baghdad just before the signing, as a crowd of children dressed in Iraqi national costumes sang traditional songs to assembled dignitaries at the ceremony.

Police said guerrillas fired mortars at a police station, wounding three civilians and two policemen.

Adnan Pachachi, a senior member of the Governing Council, said the ceremony the event was "a great and historic day for Iraq." Iraq's U.S. governor, Paul Bremer, also hailed the agreement and noted the difficulties it had faced.

"We are witnessing the birth of democracy and birth is painful, as we've learned over the last few evenings," he told the council. "Not everyone got everything they wanted in this law -- that's the way of democracy."

FOUNDATION FOR ELECTIONS, CONSTITUTION

U.S. President Bush, who invaded Iraq last March to ousted President Saddam Hussein, said in a statement that "while difficult work remains to establish democracy in Iraq, today's signing is a critical step in that direction."

"This document is an important step toward the establishment of a sovereign government on June 30," Bush said. "It lays the foundation for democratic elections and for a new constitution."

Bush, speaking separately, in Texas, said the signing would establish American-style freedoms of religion, speech and assembly for Iraq while moving the Muslim nation toward sovereignty and democratic elections.

The Republican president, who justified the invasion by citing the threat from weapons of mass destruction that were never found, has described the goal of establishing democracy in Iraq as part of a larger initiative to bring democratic reforms to the Middle East region.

The signing ceremony had been delayed twice -- first by bomb attacks on Shi'ites that killed at least 181 people last Tuesday and then by Sistani's intervention Friday.

Sistani, a 73-year-old Iranian-born religious scholar, has increasingly exerted his influence on politics in recent months to ensure Shi'ite aspirations are heard. Earlier this year the U.S.-led authority accelerated the timetable for elections after Sistani demanded polls as soon as possible.

Governing Council members said Sistani's main objection to the interim charter was a clause that could allow minority Kurds to veto a permanent constitution due to be drawn up next year if it does not enshrine their demands for autonomy.

Sistani also says an unelected body should not be allowed to pass legislation. Under the U.S. plan, an unelected Iraqi government will take over sovereignty on June 30. An assembly will be elected by end-January next year and full democratic elections will be held by the end of 2005.

COALITION OFFICIAL URGES U.N. ROLE

A senior official of the U.S.-led coalition said he hoped the United Nations, which sent an electoral team to Baghdad last month, would return to Baghdad to join in discussions on the process of creating a democracy in Iraq.

"We believe the United Nations can play a useful role in this next phase in helping us, the governing council and a broad group of the Iraqi population decide what is the best way" to create an interim government, said the coalition official, who asked not to be identified.

Shi'ites in the Governing Council said they hoped a permanent constitution would undo some of the concessions they had made in order to get the interim document agreed.

"We are committed to what we signed but if we have the chance to alter it in the future, we will do our best," said Hamid al-Bayati, a senior official of the Supreme Council for the Islamic Revolution in Iraq, a top Shi'ite party.

"Any law prepared for the transitional period will not have legitimacy until it is approved by the elected national assembly," said a statement issued by Sistani's office.

Kurds say they will never agree to give up their autonomy in three northern provinces they wrested from Saddam Hussein's rule in 1991 after the Gulf War.

The Kurds wanted and got recognition of the governments they established in the northern zone since 1991, but not the clear assurances they had sought that their militias would be the only military force there.

Shi'ites had also wanted Islam to be recognized as the main source of legislation; instead, it was recognized as one source, and as the official religion of Iraq.

The agreed document embraces a federal state, as the Kurds had demanded, and also sets a target that one quarter of the Iraqi assembly due to be elected next year should be women.
Today's Top News
Top World News

Top legislators consider amending constitution




Monitoring on foreign banks stepped up




Lee lets US Senate act as if HK was 51st state




US election: Kerry ready for another recount




China takes lead in SARS vaccine trials




Legal team to assist gas leak victims