'100-plus club' enjoys great old fun
(China Daily)
Updated: 2004-03-08 23:28
Bi Deben says there's a secret to living to 103. He's got to eat meat every day.
The Beijing centenarian says if he misses his good, old fashioned carnivorous feast for even a day, he feels "uneasy."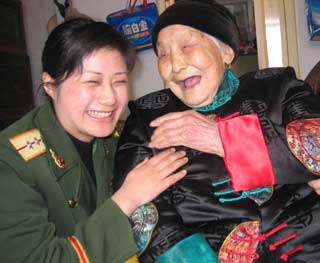 Centenarian Tao Ermei in Taizhou in Fujian Province receives a new suit at her 107th birthday party on Saturday. Four police women gave her the gift. [newsphoto.com.cn]
To show off his good health, Bi is more than proud to loudly sing an Peking Opera aria loudly to those who consult him on life and longevity.
Bi isn't alone in his senior status.
Statistics from the Beijing Municipal Committee on the Elderly show that -- despite its pollution and crowded conditions -- the nation's capital was home to more than 1.8 million people over the age of 60 by the end of 2003. Elders account for 14 per cent of the city's 13 million people.
And more than 257 of them have passed the century mark, including three who've reached 110. They are among 210,000 centenarians worldwide.
"Exercise improves your health and prolongs your life, too," Bi says, providing another tip.
He used to be a dustman and worked at construction sites in the capital before he retired in the 1960s.
And he has he walked constantly since his retirement, which he credits for greatly relieving arthritis he has suffered from.
However, 107-year-old Wang Xiuting, says a harmonious family life is the key factor to her long life. She speaks proudly of six members of her family spanning four generations showing care about and consideration for one another.
Wang now lives with her daughter-in-law, whom she says is "very filial" in nature.
Centenarians share many similarities in their lifestyles, maintaining healthy habits, getting regular exercise, eating and drinking in moderation, being cheerful, broad-minded and easy- going by nature, said Wang Shuxin, an official with the Beijing Municipal Aging Research Centre, which has studied 57 city centenarians.
Most members of the 100 club also have harmonious family lives, Wang said.
"Genetic attributes as well as the those good living factors possibly contribute to the health of centenarians and enable them to live a long life," Wang explained.
Wang's view is echoed by other experts who study longevity.
Wu Cangping, an expert of demography and chairman of the China Senior Citizens Society, says scientific ways of living and a good natural and social environment are vital.
Wu devotes himself to studying the aging population to help more people live more healthy and longer lives.
China has 130 million people over the age of 60 and the number of people over 80 is increasing by 5 per cent annually.
However, China has only 17,000 centenarians in a population of 1.3 billion.
Today's Top News
Top China News

Pakistanis may be near bin Laden's aide al-Zawahri




Government relaxes control of airfares, finally




U.S. launches WTO complaint against China




Report: China, Iran sign US$20b gas deal




FM to pay official visit to DPRK




women bosses urged to date and marry