China's laptop PC market remains attractive
By Zhu Boru (China Business Weekly)
Updated: 2004-03-08 16:41
China's largest IT (information technology) company Legend Group (Lenovo)'s recent decision to refocus its business on personal computers (PC) has again proved that the country's market is still growing.
Analysts predict China's laptop PC market will maintain an annual growth rate of 30 per cent until 2006, while the desktop PC market will grow 10 per cent in 2004, slightly higher than last year.
Lenovo announced recently that it will focus its business on PC and relevant products.
PC business has been Lenovo's "major" and "most reliable source" of sales revenues and profits, Yang Yuanqing, the company's president said.
Lenovo has successfully expanded into several sectors other than IT.
According to Yang, Lenovo will allocate more capital and resources to increase its market share.
Lenovo, China's top PC maker in terms of sales revenue, commanded 21.3 per cent of the market last year, according to international data research house Gartner.
"It is difficult nowadays to increase market share as more competitors rush in, and the low profit margins leave little room to cut prices," said Guo Li, an analyst with Beijing-based Analysys, a leading IT consulting firm.
"But the laptop PC market is a promising market with plenty of room to grow in coming years," Guo said.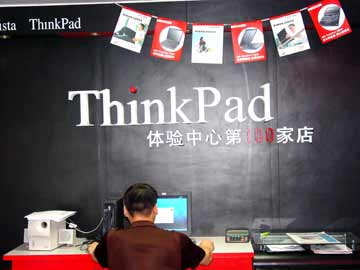 A salesman plays with a laptop at an IBM Thinkpadshop in Zhongguancun, the high-tech hub in Beijing. China's notebook computer market is projected to remain buoyant for the next several years.[newsphoto]

The dynamic laptop PC market will rise 30 per cent annually in the coming few years, in terms of sales revenues, said Guo.

For one reason, more and more consumers prefer laptops as they need to work on mobile computers at any time, he said.

While laptops account for 50 per cent of the PC market in European and North American markets, the figure in China is only 13 per cent and therefore the market has much room to grow, he said.

Moreover, dramatic price drop since last year has greatly stimulated the market demand for laptops, and the price reductions will continue this year, he said.

China's desktop PC market is expected to maintain stable growth, partly because many desktop PCs are to be upgraded this year, Guo said.

The nation's PC sector witnessed its peak between 1998 and 2000, and usually a desktop PC in China is out of date after four or five years.

The market size is estimated at more than 10 million units.

Middle and small cities, which are markets far from fully tapped, are likely to attract more PC makers, who may find it increasingly difficult to compete with rivals in big cities.

Despite declining profits, PC makers eager to expand their presence are expected to continue their price wars.

In particular, international chip-making giant AMD's aggressive expansion in China will enable PC makers to lower their costs, he said.

AMD's processors are sold at half the price of Intel's, and therefore those products with AMD processors are often competitive in price, said Guo.

Hewlett-Packard (HP) announced late last month its first office computer model which uses AMD's Athlon XP processor.

This year, HP, who is seeking a larger market share through thinner profits, may further cut its prices, he said.

HP's prices for some PC models were lower than Lenovo's last year.

Tsinghua Unisplendour, which elbowed into the PC business late last year, also installs AMD's processor in its products.

Also, as more original equipment manufacturers in Taiwan Province transfer their plants to the Chinese mainland, their lower cost will pull the prices down, said industrial insiders.

However, IBM still gives priority to profit and sticks to high-end office use PCs, Li Bin, vice-director of IBM China Co Ltd, told China Business Weekly.

"We do not play in price wars," he said.

Statistics released by Gartner indicate Dell, with a market share of 6.8 per cent last year, ranked No 2 in China, replacing Chinese PC maker Founder, which held a 6.2-per-cent market share. IBM ranked fourth with a 4.6 per cent share.