7-Eleven to add outlets in Beijing
By Jiang Jingjing (China Business Weekly)
Updated: 2004-03-08 16:21
The world's largest convenience store operator, 7-Eleven Inc, is scheduled this month to open its first 24-hour outlet in Beijing, which, analysts expect, will intensify the competition within the sector.
Beijing 7-Eleven Co Ltd, a newly established joint venture, plans to open 150 7-Eleven outlets this year in Beijing, and about 500 outlets within five years.
The central government approved the joint venture's establishment at the end of last year, Li Yong, deputy general manager of the firm, said.
7-Eleven Japan, a division of Japan-based Ito Yokado, Beijing Shoulian Group and the China National Sugar & Alcohol Group Corp hold 65 per cent, 25 per cent and 10 per cent, respectively, of the joint venture.
Yan Ligang, a spokesman with the Beijing Administration for Industry and Commerce, said the time is ripe for 7-Eleven to enter Beijing's market, as it has gained experience in southern and eastern China.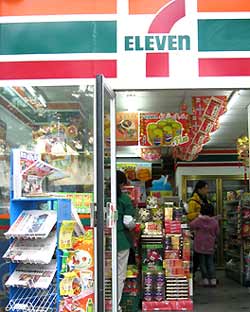 Customers select food at a 7-Eleven outlet in Guangzhou. Convenience stores are well established in southern and eastern China, but face challenges in Beijing due to the capital's cold climate and limited night life.[newsphoto]

Besides 7-Eleven, Lianhua, Chaoshifa and Wumart are competing to increase their shares of the Beijing market.

Wumart has been negotiating with China Petroleum & Chemical Corp to open convenience stores at 6,500 gas stations across the country.

Beijing, with the most privately owned vehicles of any city in China, is an attractive market for convenience store owners.

Quick, a brand under Lianhua Group, has, to date, opened the most convenience stores in Beijing.

"Convenience store owners must first adjust their operations to suit the lifestyles of Beijingers," said Wang Yao, director of the China General Chamber of Commerce's information department.

Due to the cold, windy weather in Beijing, especially during the winters, night life is not as bustling compared with cities in southern China. Therefore, business at night does not compare with Hong Kong or Guangzhou.

It costs a lot of money -- for employees' wages and electricity and security guards -- to keep a convenience store open 24 hours.

Beijing has several 24-hour stores, but none of them make a profit over night, Wang said.

Wang declined to name the stores.

Sources from 7-Eleven said some of the company's outlets in Beijing will open from 7 am to 11 pm.

People's consumption habits are also a major challenge for convenience store owners, Wang said.

Average Chinese consumers tend to spend energy shopping around to save money, he said.

"People prefer to walk five more minutes to buy a carton of milk for 1 yuan (12 US cents) less in a supermarket, rather than buying it from a convenience store," Wang said.

Li Fei, vice-professor of Tsinghua University's economic management college, agrees with Wang's assessment.

Convenience stores cannot make money simply by selling food or daily necessities, given the competition from large-scaled supermarkets.

"Instead, they should offer various services ... such as collecting gas fees, electricity payments or providing basic postal services," Li suggested.

Convenience stores' target customers are medium- and high-income wage earners, industry insiders suggest.

"Such stores must first open in high-income communities, where residents have greater ability to buy goods, and, as the time goes by, expand the network," Wang suggested.

Convenience stores, regardless of their locations and/or operation methods, need at least one year to become familiar with the local market and to form a complete network, Yan said.

Wang agrees.

"Store owners will not make a profit by retailing products until they have opened 200 stores in a city," Wang said.

A convenience store usually occupies 100 square metres, which means 200 chain stores will take up 20,000 square metres of business space.

Only then will the stores receive good prices from suppliers, and, therefore, be competitive, Wang said.

In addition, convenience stores that have complete networks will have an easier time winning the rights to promote some brands. That is often a huge money maker for such stores.

Networks enable stores to collect valuable market information for marketing research companies. Such practices are normal overseas, but rare in China.

There is tremendous potential for such businesses to develop in Beijing.

Last year, the gross domestic product per capita of shoppers in Beijing was US$3,355, which is better than the US$3,000 clientele target of convenience stores, Li said.