Table tennis brings home double happiness
(China Daily)
Updated: 2004-03-08 08:25
China's position as a table tennis superpower is intact after the men's team handed out a 3-0 triumph over Germany to walk away with the gold at the world championships in Doha Sunday.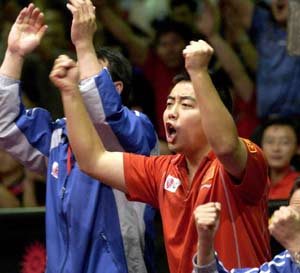 Coach of the Chinese men's table tennis team Liu Guoliang (right) cheers after winning the game. [Xinhua]
It is the 14th team title collected by the all-conquering team whose winning tradition dates back to the Beijing World Championships in 1961.
Sunday's victory just completed China's success in the Doha tournament.
The women defeated Hong Kong to take their sixth straight and 15th overall team title on Saturday.
Wang Hao squared up against Timo Boll in the opening rubber at the Qatar International Exhibition Center.
Perhaps feeling the effects of heroic play that carried his team to the finals, the German capitulated tamely in straight sets.
Then, it was the turn of world No 1 Ma Lin, with Christian Suss at the other end of the table.
Suss, who bears more than a passing resemblance to Boris Becker, put up stoic resistance against the world's top player. After losing the first set he raced to a 5-0 lead in the second, winning 11-8.
Ma then took control and, despite not playing his very best, his attacking right hand top spin had Suss on the defensive.
During one rally the German was pushed so far away from the table that he was in danger of feeling the waters of the Gulf lapping about his feet.
World champion Wang Liqin then secured China's victory with a 3-1 verdict over Zoltan Fejer-Konnerth, who is some 68 rungs below Wang in the rankings.
***Supremacy Challenged
China's supremacy at table tennis appears as secure as Fort Knox, but national women's team coach Lu Yuansheng believes action is needed to keep his players one step ahead of the game.
"The gap between the strong and the weak is closing. When we go home we have to find new ideas - otherwise we could be in danger," Lu warned after watching his team beat Hong Kong 3-0 to collect their sixth straight gold at the world table tennis championships here on Saturday.
Yesterday, China's men's team also won the gold after defeating Germany 3-0 in the final.
Lu's prophecy may well be received with a certain degree of wry amusement by teams like Hong Kong, South Korea and Chinese Taipei, not to mention Germany and Russia, who have all come off second best to the champions in Qatar this week.
China holds the sport in the palm of its hands - only a united team from Korea in 1991 has managed to muscle in on the Chinese women's domination of the team championships in a remarkable winning run stretching back to Ljubljana in 1965.
Lu said his number one aim now is to prepare his squad for the Athens Olympics.
"The Olympics are the top priority. When we return we'll find out what we've learned here to prepare for the Games."
His remarks followed China's largely one-sided final against Hong Kong, with the reigning champions' top player Zhang Yining setting China on its way, dropping just one set against Tie Yana.
Tie defeated Zhang in the semi-finals at the 2001 Universiade in Beijing en route to the title.
Wang Nan than came off best in a five setter against Lau Sui Fei before 16-year-old Guo Yue came from a set down to defeat Zhang Rui 3-1.
The top seeds have looked a class above their rivals, and hard though Hong Kong tried they could not come up with a way of breaking through the impregnable Chinese wall.
Lu has mixed and matched his squad in Qatar and he caused a minor surprise picking team-championship debutant Guo over a more seasoned competitor like Li Ju or Niu Jianfeng.
He explained: "I picked Guo because although she's only played once before the final I thought her technical ability would help us and give her good experience. She coped with the pressure well."
And although Zhang is No 1 in the world, it is her close friend Wang who is the team's anchor.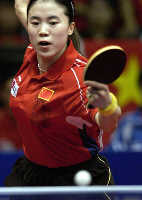 Wang Nan, Zhang Yining and Guo Yue lead China to a 3-0 victory over China's Hong Kong capture their sixth consecutive gold at the world table tennis team championships in Doha, Qatar on March 6. [Xinhua]

"She's such an experienced competitor and played a big role for us," admitted Lu.

Wang, who intends to take up politics when she finally hangs up her bat, said this latest world championship medal had given her particular pride.

"You might forget, but China lost gold in the last Asian Games, so to win this is significant. And also to win it alongside the younger players makes it a little special."

Zhang started slowly against Tie, who raced into 5-1 in the opening set. "It was beyond my dreams to have a lead like that against Zhang," smiled Tie.

Zhang overcame that blip to edge the first set 12-10, then lost the next 9-11. But she quelled any potential of a rebellion against her supremacy taking the third 11-8 and although Tie saved one match point in the fourth she was unable to repeat the feat when the second came around.

"I was a little slow at the beginning, but I always kept a cool mind and was able to control the match," Zhang said.

Wang then took to the appropriately red-matted stage and cheered on by a vocal band of supporters she made it 2-0 for China, despite losing the first and third sets against the high-serving Lau.

The baton was then passed to Guo, who repaid in full the confidence shown in her by her coach. After losing the first set against Zhang Rui, a former teammate before the latter moved to Hong Kong, she hit form to reel off the next three to seal the victory.

For the record, China's women won their first world gold at Ljubljana in 1965. After regaining the title in 1975 they have only relinquished it once since to a united Korean team in 1991.
Today's Top News
Top Sports News

China works to address U.S. concern on trade deficit




China, EU consolidate partnership




New planetoid Sedna discovered




Two Chinese abducted by rebels in Sudan




China, France hold joint naval drill




Pakistan kills two dozen terror suspects