Dramatic rescue of North Pole 12
(Agencies)
Updated: 2004-03-07 09:10
In a dramatic rescue mission, 12 stranded Russian scientists have been plucked from an Arctic research station all but crushed by a freak wall of ice, Russian media reported.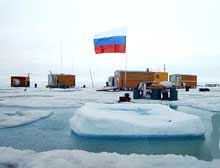 The research station, pictured in August 2003. [AP]

Russian helicopters had battled freezing conditions deep beyond the Arctic Circle Saturday to reach the drifting Russian meteorological research station North Pole-32.

"The mission to save our people can be considered successful," Interfax reported mission chief Artur Chilingarov as saying.

"We have on board our helicopter all 12 explorers and two dogs."

Rescuers first landed an Mi-8 helicopter to establish coordinates before evacuating researchers from the station on board a heavy transport Mi-26 in temperatures of minus 39 Celsius (minus 38 Fahrenheit).
They were due to arrive back on Norway's Spitzbergen islands in the evening.
The North Pole-32 station's 12 researchers were unharmed after three days huddled in the remains of their base, cast 700 km (450 miles) from the nearest land on a drifting ice floe, Russian state television reported.
The windswept outpost was almost completely destroyed when a 10-metre (30-foot) high ice wall reared up from the surrounding ice floe and collapsed on the base on Wednesday.
Authorities immediately launched a rescue mission, but progress was hampered by vast distances and freezing conditions around Europe's northern tip, and by difficulties in landing heavy helicopters on the sheet ice under the base.
"Such a long flight is a challenge in itself in areas where people haven't flown so much before," Odd Olsen, the senior Norwegian official on Spitzbergen, told Reuters. "And there are few alternative landing spots."
The meteorological station set up operations on the floe in April 2003. On Wednesday, a large part of the floe disappeared beneath the water, taking four of the station's six buildings with it.
"At 5.15 p.m. on Wednesday a huge wall of ice lumps reared up, initially three to five meters high, then seven to ten meters high," base leader Vladimir Koshelev told Russia's First Channel after the accident.
"In about half an hour, they swallowed up about 90 percent of the station. Such a thing, I would say, has never before been seen on a polar station. The wall immediately crushed under itself the accommodation and offices."
The camp was Russia's first Arctic venture since the Soviet Union's collapse, which starved exploration and research of funds.
It was founded on the permanently moving Arctic ice last April and has almost completed a full circle around the North Pole.
According to a spokeswoman for Rosgidromet, Russia's meteorological research center, there had never been such a rescue since "the Chelyuskin episode."
She was referring to an epic 1930s mission that rescued more than 100 people stranded on the ice after their ship sank in the Arctic, and which was learnt by every Soviet schoolchild and fully exploited as propaganda by communist leader Josef Stalin.
Today's Top News
Top World News

Hu reaffirms support for HK and Macao governments




Economic, social tasks for 2004 set




FM: Yasukuni Shrine visits hurt feelings




Finance minister puts priority on farmers




China's defense spending still fairly low




Lee's act to harm HK stability, prosperity