Dutroux: I was child sex ring pawn
(Agencies)
Updated: 2004-03-04 09:05
Former electrician Marc Dutroux has admitted kidnapping and raping young girls but denied murder, insisting he was a pawn of a child-sex gang protected by police and politicians.
Dutroux, left, pictured in court drawing during his testimony. [AFP]

Taking the stand for the first time, Belgium's most-hated man told the hushed courtroom in Arlon he had hidden two eight-year-old girls, Julie Lejeune and Melissa Russo, in a concealed dungeon under his house to protect them from being sent into prostitution by a child sex ring.

Dutroux drew gasps from the packed courtroom when he admitted and described raping Laetitia Delhez, then 14, and Sabine Dardenne, then 12. Both girls survived.

Dutroux said he had "consensual" sex with Eefje Lambrecks, who was then 19. He described her as "a very nice girl" and denied killing her, An Marchal, then 17, or Bernard Weinstein, 32, an associate.

"I accept responsibility," Dutroux said on the third day of a trial that has riveted a country struggling to come to terms with the gruesome saga. "It is regrettable."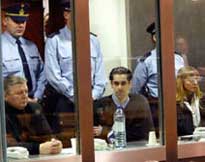 Co-defendants Nihoul, Lelievre and Martin in court. [AFP]

But Dutroux, charged with kidnapping and raping six girls and murdering four of them, sought to put most of the blame on others -- including his ex-wife, Michelle Martin, and three male accomplices.

Journalist Juliet Bremner told CNN Dutroux had even claimed that the pedophile sex-ring which he said directed him contained two policemen.

Jailed in the past for a series of violent rapes, including on minors, Dutroux faces a maximum sentence of life imprisonment on his present charges -- including five of murder and six of kidnapping. His trial is expected to last at least two months.

In often rambling and confused testimony, he contradicted accounts he had given investigators in about seven years in custody, angering lawyers for the victims' families.

Dutroux admitted a role in abducting four of the six girls who disappeared in 1995-1996 and having sex with three of them. But he denied killing any of them.

'Trying to protect them'

Dutroux, 47, depicted himself as the victim of an authoritarian mother and a reluctant accomplice to crime, saying members of a pedophile ring with police and political protection had pressured him to help kidnap the girls.

"I didn't even know what pedophilia was," he said. "It was all Chinese to me."

Dutroux denied any involvement in the kidnapping and death of eight-year-olds Julie and Melissa, the first two girls to be abducted in July 1995, telling the court he had found them at his home with his wife and two other men -- Weinstein and Michel Nihoul.

Asked by the judge why he had built the trap door to conceal the dungeon, he said: "I wanted to create a hiding place to spare them from being sent to a prostitution ring."

Co-defendants Nihoul, Lelievre and Martin in court.

He accused co-defendant Nihoul, a convicted fraudster, and Weinstein, a Frenchman and suspected accomplice found murdered and buried in Dutroux's backyard in 1996, of planning to force the children into prostitution.

Dutroux denied killing Weinstein, which he had admitted in pre-trial custody, blaming the death on his ex-wife.

He also accused his ex-wife of failing to care for eight-year-olds Julie and Melissa, who died of starvation in the dungeon while he was in prison for three months for car theft and other charges.

He denied any involvement in their June 1995 kidnapping, telling the court he had found them at his home with his wife, Nihoul, Weinstein and drug addict Lelievre.

As well as the charges facing Dutroux, Nihoul, 62, faces charges of kidnapping Laetitia, one of the rescued girls, who was 14 at the time. He denies involvement.

Dutroux's ex-wife, Martin, 44, is accused of conspiracy in the kidnapping, and Lelievre faces kidnapping, rape and drugs possession charges.

More than 100 people lined up in the cold early hours to vie for one of 50 standing room places in the public gallery.
Today's Top News
Top World News

Pakistanis may be near bin Laden's aide al-Zawahri




Government relaxes control of airfares, finally




U.S. launches WTO complaint against China




Report: China, Iran sign US$20b gas deal




FM to pay official visit to DPRK




S. Korea won't send troops to Iraqi city