Kool enough for Beijing?
(China Daily)
Updated: 2004-03-02 08:48
Rem Koolhaas isn't someone you'd call a conventional architect.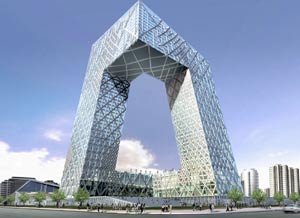 A computer-generated image of the new CCTV building designed by Rem Koolhaas. [file photo]

He is the type of person who writes books filled with pictures of skyscrapers being sliced in half, interviews with television chefs, and soft-core pornography.

He's the type of person who one minute tries to redesign the European Union flag, the next has coffee with Italian fashion designers.

More to the point, he is the type of person who, in emotional moments, says architecture is "too slow" to be relevant to today's world.

Rem Koolhaas then, doesn't have much in common with other architects from his native Netherlands, let alone Chinese ones.

Yet, it's exactly this balding, hawk-like, 59-year-old, who may have a great impact on Beijing's architectural future.

CCTV in hyperbuilding

In April work will start on the new headquarters of China Central Television (CCTV), the national TV network, beside the central eastern Third Ring Road in Beijing.

The building complex is designed by Koolhaas and his firm, the Office for Metropolitan Architecture (OMA).

It will be a building, Koolhaas says, of "barbaric beauty," of "unimaginable size and complexity." It will be a 230-meter-high arch formed by two L-shaped towers containing over 400,000 square metres of floor space; a building big enough to house 200 television stations.

It's a building, Koolhaas hopes, that will shift development in Beijing away from the "lonely" and "hideous" nature of skyscrapers towards "hyperbuildings" buildings that house such enormous populations they become urban centres themselves.

It's a building that will "revolutionize" the Beijing landscape, as well as the world of architecture.

The CCTV building isn't, though, the only way Koolhaas is influencing the future of Beijing: He's designed the city's new Xinhua Bookstore. He's leading a government study into how to preserve the city's architectural heritage. He was one of the judges of the Olympic Stadium design competition. And he's even contemplating moving his teaching practice from Harvard to the Chinese capital.

When Koolhaas said, during a lecture in London, England, last month, "I want to be involved in the future of the city, not just one building," he certainly meant it.

Koolhaas was in London, officially, to collect the Gold Medal of the Royal Institute of British Architects (RIBA), the architectural world's equivalent of a lifetime achievement Oscar.

Unofficially, he was there to lecture Britain's architects about why they should be looking to China.

"Our creativity in cities stopped just as China's cities started to boom," he said. "We ceased looking to the future and started looking back, started listening to people like Prince Charles (a regular campaigner against modern architecture)."

There is, though, he said, an opportunity for change. "We are being called to build a new city in China, there is a chance there for a new architecture, and we should be involved in that."

Koolhaas has been trying to create a "new architecture" ever since he joined the profession in the late-1960s, after stints working as a journalist and Hollywood scriptwriter.

In 1978, just as many architects were looking for ways to control the spread and congestion of cities, Koolhaas published "Delirious New York," a polemical, slogan-led celebration of the "culture of congestion," and a promise to do all he could to fuel its growth.

The world was changing fast, Koolhaas said, architects could do little to stop it, but they could help it along.

If architecture in the late-1970s needed a dose of controversy, Koolhaas certainly provided it. "Delirious New York" instantly made Koolhaas into an architectural icon; an architectural icon, that is, who had never built a house.

New architecture

Since then, Koolhaas has continued to develop this "new architecture:" an architecture that embraces change and technology rather than trying to control it; an architecture that has pushed him to the verge of bankruptcy once and seen him lose numerous contracts; an architecture that has seen him build some of the most majestic buildings of recent years.

In Bordeaux, France, in 1998, he built a three-storey house for a paralyzed man and his family, the living space of which was made mostly of glass. Koolhaas put the house's study onto a piston so that it could move between all three floors, allowing the man to get from his bedroom to his wine cellar without having to feel like an invalid, and allowing his family to live in a house that didn't look like it was made for a paraplegic.

The house was named Time magazine's building of the year.

In New York, in 2001, meanwhile, he built a shop for Prada, a veritable maze of display cases, that features changing rooms with televisions in them so that a customer can see what the back of an outfit looks like without having to crane his or her neck.

For those buildings, and numerous others, Koolhaas has been called everything from "a giant on the international stage" to "a mechanical baseball-pitching machine."

The latter comment, made by Japanese architect Toyo Ito, was, apparently, a compliment about Koolhaas' ability to always hit the target with his designs.

Adventure in China

It is with his work in Beijing, though, that Koolhaas has found the perfect opportunity to realize his "new architecture." Although, in London, that "new architecture" seemed simply to mean, anything but skyscrapers.

"I have decided to launch a campaign against the skyscraper, that hideous, mediocre form of architecture," he said with typical overstatement. "In the 1970s there was a genuine creativity to it that changed the way we live our lives, but today we only have an empty version of it, only competing in height.

"The actual point of the skyscraper - to increase worker density - has been lost. Skyscrapers are now only momentary points of high density spaced so far apart that they don't actually increase density at all."

As Koolhaas sees it, because the skyscraper has failed to increase worker density, it can be removed from our cities. It isn't needed anymore. Density can be achieved through other, more communal, forms of architecture.

"We've (OMA) come up with two types: a very low-rise series of buildings, or a single, condensed hyperbuilding. What we're doing with CCTV is a prototype of the hyperbuilding."

CCTV's new headquarters then, Koolhaas hopes, will become its own city, its own community, where around 10,000 workers will eat, drink and attempt to produce kung fu movies to rival those of any Hong Kong studio.

Every part of the TV production process will be put into the building's arch, from the newsrooms, to the marketing men, to the tea boys.

It's the first time a television network of CCTV's size has been squeezed into one building. It's "an experiment," "a risk," which rival broadcasters will probably look at as a model of inefficiency.

Perhaps more exciting than the CCTV building, though, are the measures Koolhaas will soon put forward, through his Beijing Preservation Study, to help preserve Beijing's architectural heritage from the ravages of tourism.

In London, he talked about such revolutionary possibilities as the creation of "sacrifice zones" of historic architecture to allow other zones to be tourist free.

If anyone is hoping, though, that Koolhaas is champing at the bit to protect Beijing's few remaining siheyuan, the traditional courtyard homes found in the city centre, he or she would be mistaken.

As far as he is concerned, they are only as worth preserving as any other type of architecture in the city, be it 1960's workers' housing or sports stadiums.

It's true that the Chinese have treated their past unsentimentally at times.

"But this just means the texture of the city is more fragile than that of Western cities, so the whole notion of preservation needs to be reinterpreted in this context."

Whether that reinterpretation will actually occur, only time will tell. But, one thing's for certain, there are few other architects working today who think in such far-reaching terms, who think beyond the boundaries of bricks and mortar.

CCTV to get grand new home

CCTV's new 553,000-square-meter headquarters will be among the first of 300 architectural complexes to be constructed in Beijing's new Central Business District, outside the eastern Third Ring Road.

The total construction cost is estimated at 600 million Euros (US$750 million). The project will be completed ahead of the Beijing Olympics in 2008.

The contract for the building complex went to winning designer the Office for Metropolitan Architecture (OMA) on December 20, 2002, closing an international architectural competition organized by the Beijing International Tendering Co.

The OMA scheme was chosen from among 10 competitors, including Dominique Perrault from France and Kohn Pedersen Fox and Skidmore, Owings and Merrill LLP from the United States, after an international jury that included architect Arata Isozaki and critic Charles Jencks selected three firms for the second phase - Toyo Ito & Associates in collaboration with FCJZ of Beijing, the East China Architecture & Design Institute, and OMA, with OMA coming out as the final choice.

The OMA design features an iconic configuration involving two high-rise towers on a 10-hectare site in the new Central Business District in Beijing.

The tallest tower, with a height of 230 metres and a floor area of 405,000 square metres, combines administration with news, broadcasting, studios and programme production - bringing the entire television process together in a sequence of interconnected areas.

Although the building's main tower is 230 metres tall, it is not a traditional skyscraper, but a continuous series of horizontal and vertical sections that establish an urban site rather than simply pointing skyward.

The irregular grid work on the building's facades is an expression of the forces travelling throughout its structure.

The second building, the 116,000-square-metre Television Cultural Centre (TVCC) includes a hotel, a visitor's centre, a large public theatre and exhibition facilities.

A Media Park forms a landscape of public entertainment, outdoor filming areas and production studios, and serves as an extension of the central green axis of the CBD.

Koolhaas- as seen by the architectural world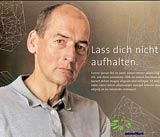 Rem Koolhaas

Dominique Perrault, architect behind the European Court of Justice and one of Rem Koolhaas' competitors for the CCTV contract "Rem's design is very special and very exciting because it's not exactly a building, it's like a mysterious landscape, like its own world. It's not a building apart from the city; it's a real piece of the city. It's a very interesting project. I like it. It's good for the architectural world.

George Ferguson, Royal Institute of British Architects president "He's one of the supreme thinkers and practitioners of architecture in current times, not just because of what he's built, but because he's a writer who's influenced a whole generation of architects. What's interesting about him is he thinks beyond the boundaries of architecture. Love him or hate him, he is a giant on the international stage."

Mohsen Mostafavi, president of the Architectural Association "He's important because he refuses to be pigeonholed. That's rare. Often, architects, the more successful they get, the more their work becomes a parody of their past. Rem's work has never done that; he's always experimented."
Today's Top News
Top Life News

China puzzled over US filing tax complaint at WTO




Chen, Annette Lu slightly wounded in shooting




Specific reform objectives set for banks




Bush urges allies to stick with united mission




Marriage bells toll in cyber churches




Chinese, French women hold dialogue