Aristide says US deposed him in coup
(Agencies)
Updated: 2004-03-02 08:27
The Bush administration insisted Monday that Haiti's exiled president was not kidnapped or strong-armed into fleeing, despite Jean-Bertrand Aristide's claims that the U.S. military forced him to leave.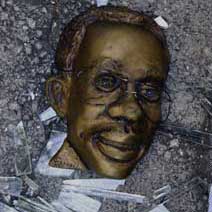 A mask of deposed President Jean-Bertrand Aristide lies broken at the entrance of his looted house in Port-au-Prince, Haiti. [AP]

The Pentagon said as many as 2,000 U.S. troops could go to Haiti to help to curb violence that culminated Sunday in Aristide's departure.

White House officials said Aristide left willingly and that the United States aided his safe departure. But in a telephone interview with The Associated Press, Aristide said: "No. I was forced to leave."

"Agents were telling me that if I don't leave they would start shooting and killing in a matter of time," Aristide said during the interview, which was interrupted at times by static. Asked to identify the "agents," Aristide said: "White American, white military."

"They came at night ... There were too many. I couldn't count them," he added.

A White House official responded, "He resigned and left on his own accord."

Aristide's supporters in the United States said the one-time U.S. ally told them he was being held against his will in the Central African Republic, a charge that country's foreign affairs minister rejected.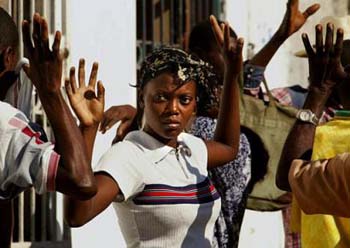 A woman holds her hands up as police do a random check for weapons on the steets of Port-au-Prince, Haiti in an attempt to stop the violence on Monday March 1, 2004.[AP]

The administration did make clear to Aristide in the tumultuous hours before he left that he could not count on U.S. protection from rebels threatening to storm the presidential palace and kill him. U.S. Secretary of State Colin Powell relayed that message Saturday night to Aristide's Washington lobbyist, former Rep. Ron Dellums, D-Calif., said an administration official speaking on condition of anonymity.

In a telephone interview with CNN on Monday night, Aristide said the United States on Saturday withdrew the 19 Americans assigned to bolster his security detail.

The official said Aristide asked U.S. officials whether some of the 50 Marines that U.S. President Bush had sent a week ago to protect the U.S. Embassy in Port-au-Prince might shift to the presidential palace if the rebels drew close.

The answer was no. The response was the same on Saturday when members of Aristide's presidential guard, which included some Americans working as contract employees, asked embassy officials about the prospect of U.S. protection at the palace in the face of an expected assault.

"He was not kidnapped. We did not force him on to the airplane. He went onto the airplane willingly, and that's the truth," Powell said.

Bush's spokesman, Scott McClellan, said, "It's nonsense, and conspiracy theories like that do nothing to help the Haitian people realize the future that they aspire to."

Civil rights activist Jesse Jackson said Congress should investigate whether the United States, specifically the CIA, had a role in the rebellion that led to Aristide's exile.

At the Pentagon, Defense Secretary Donald H. Rumsfeld said U.S. troops would remain in Haiti for a "relatively short period." He said they would join an international force, which could include up to 5,000 troops from France, Canada and elsewhere, that would stay under replaced by a U.N. peacekeeping force.

Also, Gen. Richard B. Myers, chairman of the Joint Chiefs of Staff, said 800 to 1,000 Haitians had been returned to their country in recent days after being picked up trying to flee over the water.

The crisis had brewed since Aristide's party won flawed legislative elections in 2000 and international donors froze millions of dollars in aid.

Opponents said Aristide, the country's first democratically elected president, broke promises to help the poor, permitted corruption that was fueled by drug trafficking and was behind attacks that armed gangs made on his critics. He denied the charges.

Aristide realized he had to go, said Rep. Mark Foley, R-Fla. "He was either leaving on a Learjet or in a casket," he said. "He chose the jet."

But activist Randall Robinson said Aristide told him on the phone Monday that he had been kidnapped at gunpoint by American soldiers and ousted in a U.S.-run coup d'etat, and was being detained in the Central African Republican.

But the country's foreign affairs minister, Charles Wenezoui, met Aristide at the airport and said, "He is a free man and the heavy security measures around the presidential palace is for his own security."

But Rep. Charles Rangel, D-N.Y., who spoke to Aristide on Monday, said: "He said that it was part of the coup ¡ª that the resignation was dictated to him, and the Americans told him that they couldn't protect him any longer."

Rangel and others members of the Congressional Black Caucus met Monday in New York with U.N. Secretary-General Kofi Annan.

But a senior White House official said that Aristide, on the ride to the airport and to exile, was philosophical about what was happening. Aristide, speaking with someone who accompanied him, "made clear that he believed what he was doing was in the best interest of Haiti and the Haitian people," said the official, who spoke on condition of anonymity.
Today's Top News
Top World News

Pakistanis may be near bin Laden's aide al-Zawahri




Government relaxes control of airfares, finally




U.S. launches WTO complaint against China




Report: China, Iran sign US$20b gas deal




FM to pay official visit to DPRK




women bosses urged to date and marry