U.S. hunt for Bin Laden gathers steam
(Agencies)
Updated: 2004-02-29 09:06
The United States is rounding up and questioning the relatives of fugitive al-Qaida leaders to generate information on the possible whereabouts of Osama bin Laden and his top deputies. This tactic helped lead to Saddam Hussein's capture.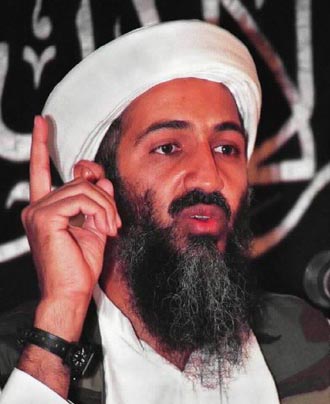 On Saturday, Pentagon and Pakistani officials denied an Iranian state radio report that bin Laden had been captured "a long time ago" in Pakistan's border region with Afghanistan.
But some U.S. officials do say they have been able to extract useful information from Afghan and Pakistani relatives and friends of al-Qaida fugitives, providing hints on the possible whereabouts of the organization's leaders.
So far, the information the U.S. has received is unconfirmed and does not mean the terrorist leader's location has been pinned down or his capture is imminent. U.S. officials caution that rumors of significant progress are overstated.
With the weather improving in Afghanistan, the U.S. military has sent troops and technology to the country to aid the search and to give forces on the ground more opportunity to track down bin Laden. He is the United States' most wanted terrorist for his leadership in planning the attacks of Sept. 11, 2001.
Rounding up relatives for questioning helped bring about the Dec. 13 capture of Saddam, the former Iraqi leader. U.S. officials hope the tactic could lead to information on the whereabouts of bin Laden and his top deputies, especially when combined with information from spy satellites, communication intercepts and prisoner interrogations.
U.S. military officials have said they are planning a spring offensive in Afghanistan in the hopes of capturing bin Laden, former Taliban leader Mullah Omar and their associates.
Meanwhile, American commanders in Afghanistan have expressed new optimism about finding bin Laden. Late last month, U.S. military spokesman Lt. Col. Bryan Hilferty said the military believes it could seize bin Laden this year, perhaps within months.
Other U.S. officials try to temper such optimism.
In a sign of an increased focus on the Afghan-Pakistani border, Pakistani rapid reaction forces have been deployed to selected areas in the region, a mountainous landscape that runs 2,000 miles from the Himalayas in Pakistan's northern territories to the desert of southwestern Baluchistan.
Pakistani officials told The Associated Press on Friday that satellite telephone intercepts from last year indicated al-Qaida members were hiding near the border. Two intelligence officials said participants discussed a man called "Shaikh" — a code name for bin Laden.
"Some people who were speaking in Arabic have been heard saying Shaikh is in good health," one of the intelligence officials said.
A U.S. defense official, also speaking on the condition of anonymity, said that Pakistani forces have killed or captured more al-Qaida members than any other U.S. ally. "We continue to aggressively pursue the remnants of al-Qaida and the Taliban," the official said.
Today's Top News
Top World News

Greenspan: Free floatation of the yuan could be risky




Political advisers pledge to better people's life




Jam-proof satellite going up next year




More and more women saying no to abusers




Bush, Kerry open battle for White House




NASA: Mars had enough water for life