US, Pakistan deny Bin Laden's capture
(Agencies)
Updated: 2004-02-28 21:33
Pentagon and Pakistani officials on Saturday denied an Iranian state radio report that Osama bin Laden was captured in Pakistan's border region with Afghanistan "a long time ago."
The claim came at a time when Pakistan's army was hunting al-Qaida suspects in a remote tribal region along the border with Afghanistan, believed to be a possible hiding place for the al-Qaida leader.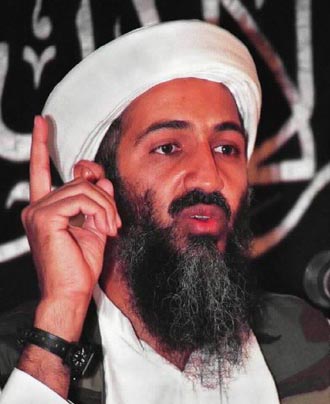 The report was carried by Iran radio's external Pashtun service, which is designed for listeners in Afghanistan and Pakistan where the language is widely spoken.
Iran state radio's main news channel - the Farsi-language service for Iranian listeners - did not carry the bin Laden report. Iran state television also did not carry the report.
The director of Iran radio's Pashtun service, Asheq Hossein, said he had two sources for the report. The radio quoted its reporter as saying bin Laden had been in custody for a period of time, but a U.S. announcement of the capture was being withheld by President Bush until closer to the November election.
"Osama bin Laden has been arrested a long time ago, but Bush is intending to use it for propaganda maneuvering in the presidential election," he said.
There have been reports that military forces believed they had identified bin Laden's general location and had him encircled, but Pakistani officials have denied any specific knowledge of bin Laden's whereabouts.
The state radio report, quoting an unnamed source, said U.S. Defense Secretary Donald H. Rumsfeld's visit to the region this week was in connection with the arrest.
Larry Di Rita, the chief Pentagon spokesman who traveled with Rumsfeld this week to Afghanistan, denied the report. "I don't have any reason to think it's true," he said Saturday.
Lt. Col. Bryan Hilferty, a spokesman for the U.S. military in Afghanistan, also said he had no information to suggest bin Laden had been caught.
"Things are going well, and we believe we will eventually catch all the leaders of al-Qaida, but I know nothing of that report," he said.
Pakistani Information Minister Sheikh Rashid Ahmed denied the reported capture, saying it was "baseless news."
"We have neither arrested Osama nor we have any information about him," Ahmed told The Associated Press.
Pakistani Army spokesman Gen. Shaukat Sultan also told The Associated Press that the report was not true. "That information is wrong," he said.
A Pakistani official said previously that members of al-Qaida are being sought in the border region, although bin laden was not a specific target.
Separately, Pakistani forces killed 11 people in an exchange of fire Saturday after a minibus failed to stop at a roadblock in a tribal region where the ongoing anti-terrorism operations have been taking place, an army spokesman told the AP. The shooting occurred a day after armed men and soldiers exchanged fire at a military compound in the region.
Speaking to the AP in Tehran, Hossein identified one of the sources for the bin Laden report as Shamim Shahed, editor of the English-language Pakistani newspaper The Nation in Peshawar. Hossein said Shahed told him Friday night that bin Laden was arrested "a long time ago."
But Shahed, who is The Nation's Peshawar bureau chief and not its editor, denied telling Iranian radio that bin Laden had been captured.
"I never said this," Shahed said in a telephone interview with the AP's Islamabad bureau. "But I have for the last year been saying that he is not far away. He is within their (the Americans') reach, and they can declare him arrested any time."
Hossein said he had a second source for his report that bin Laden had been captured, but he declined to identify him except to say he was "a man with close links to intelligence services and Afghan tribal leaders."
The Iranian news agency IRNA was first to report the capture of ousted Iraqi leader Saddam Hussein. IRNA also carried the state radio report about bin Laden's capture and said it had contacted a radio announcer at the Pashtun service who confirmed the news.
Today's Top News
Top World News

Greenspan: Free floatation of the yuan could be risky




Political advisers pledge to better people's life




Jam-proof satellite going up next year




More and more women saying no to abusers




Bush, Kerry open battle for White House




NASA: Mars had enough water for life