Zoellick: US can't close door to Chinese goods
(Agencies)
Updated: 2004-02-26 13:58
U.S. Trade Representative Robert Zoellick took aim on Wednesday at growing protectionist sentiment against China, saying there is much at stake for both countries, and the world, in how China and the United States exercise power and responsibility.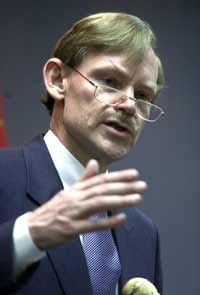 U.S. Trade Representative Robert Zoellick. [newsphoto/file]

"Just (when) the Chinese are learning the win-win nature of trade, Americans should not forget how the idea works," the chief architect of the Bush administration's trade policy said in a speech to the Asia Society.

With the U.S. presidential election looming, U.S. President Bush has been on the defensive because of the loss of some 2.6 million manufacturing jobs since he took office.

White House economic adviser Gregory Mankiw recently gave Democrats new ammunition to attack the administration's trade policies when he said the movement of some jobs overseas was probably good for the U.S. economy in the long run.

The manufacturing sector's struggle to climb out a prolonged slump has focused congressional attention on China, which, as the U.S. alleges, had a US$125 billion trade surplus with the United States in 2003.

Leading Democratic presidential candidate Sen. John Kerry of Massachusetts has faulted the Bush administration for not being more aggressive in dealing with China.

Zoellick painted a different picture of the trade relations with what the World Bank has said is now the world's second largest economy in terms of purchasing power.

He said Americans have benefited from being able to sell more products to China, as well as from being able to buy low-priced Chinese goods.

"China is not another 'Japan Inc.' -- an export-driven machine that shunned imports and the participation of foreign business. China sells, but it also buys," Zoellick said.

However, he complained about Beijing's performance in copyright and patent protections on goods ranging from music CDs to manufacturing equipment. "If we can make it, they can fake it," he alleged.

Zoellick, who visited Beijing on a recent nine-country trip to boost troubled world trade talks, said China had a special responsibility to help revive and conclude those negotiations because of its growing importance in the world economy.

China, which is estimated to be home soon to about 50 percent of the world's textile production, also must carefully manage its exports to minimize the damage to other developing countries when a decades-old international textile quota system comes to an end on December 31, he said.
Today's Top News
Top China News

Office: Beijing watches Taiwan developments closely




State tightens farmland protection




Doctor starts 49-day fast to test TCM regimen




Fighting follows Afghan minister's killing




China values military ties with neighbors




Dads ask: 'Is this my child?'