France calls for Haiti peace force
(Agencies)
Updated: 2004-02-26 10:51
French officials have called for the "immediate" creation of an international civilian peace force to restore order to Haiti.
The call comes as rebel leader Guy Philippe said Wednesday his troops were ready to attack the Haitian capital, Port-au-Prince, but wanted to "give a chance to peace" and will hold off to see if President Jean-Bertrand Aristide resigns.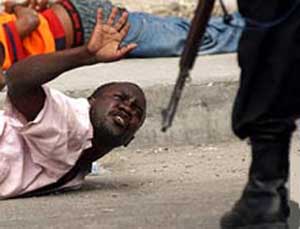 An arrested man gestures to a police officer in Port-au-Prince. [AP]

Philippe told The Associated Press that the rebels also were taking a wait-and-see approach to proposals to send international peacekeepers to Haiti.

"If they do not attack the Haitian people, we won't attack them," he said. "If they come to help us to remove Mr Aristide, they will be welcome."

A statement Wednesday by French Foreign Minister Dominique de Villepin also blamed Aristide for the violence sweeping the country.

Under the French plan, the civilian force would provide international assistance for presidential elections under a transitional government of national unity.

"The international force will be in charge of ensuring the return of public order and ... it would support a government of national unity," Reuters quoted de Villepin as saying in the statement.

"Today in Haiti, the threat of a deterioration in the violence is real. There is nothing predestined about this ... we must stop this vicious circle," the ministry said.

France also said it wants human rights observers to be sent to the troubled Caribbean nation and a "long term" engagement of international aid aimed at reconstructing Haiti's economy, The Associated Press reported.

U.S. Secretary of State Colin Powell said he spoke Wednesday with de Villepin.

"We both agree that a political process should be found to move forward," Powell said.

"Anything that is done, we should do it in a constitutional way, and we're examining all the political alternatives."

Also Wednesday, the United Nations called for an immediate halt to the violence and to human rights abuses on both sides.

The Security Council "deplores the decision by the Democratic Opposition to reject" an international peace plan that would allow Aristide to remain in power, a U.N. spokesman said.

Aristide has refused to depart until his term ends in 2006.

A man walks past a barricade on one of Port-au-Prince's main avenues.

Haitian opposition leaders -- as well as the rebels who have been sweeping across the northern part of the country -- have demanded Aristide's immediate ouster.

The coalition of opposition groups rejected the latest international peace plan because it failed to call for the president's departure.

The United Nations is calling on both sides to "accept and implement the existing peace plan," which outlines a power-sharing arrangement with Aristide.

At the White House, President George W. Bush said the United States is talking with other nations about maintaining a "security presence" in Haiti but provided no details.

He said the first priority is to work toward a political settlement to end the bloodshed in Haiti, which has taken dozens of lives in recent weeks.

Bush urged Haitians to stay in their country, and warned that those who try to escape to the United States by boat will be turned back by the U.S. Coast Guard.
Today's Top News
Top World News

Greenspan: Free floatation of the yuan could be risky




Political advisers pledge to better people's life




Jam-proof satellite going up next year




More and more women saying no to abusers




Bush, Kerry open battle for White House




NASA: Mars had enough water for life